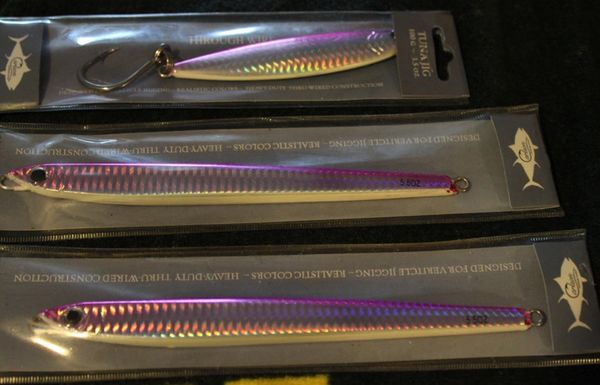 Tuna Jigs
These Jigs are Deadly on all types of Tuna.
We sell the two styles of jigs that have worked the best for us over the last several seasons.
1. The Knife Jig - at 7" long, this jig attracts bigger size tuna and at 5.5 ounces The long narrow shape of the Jig along with its rear-center-weighted body generates a fast vertical drop with an erratic fluttering action that is excellent for enticing large fish. The luminous body also better excites visual predators. Guarantees more reaction strikes from many big game species. This is a must have for angler targeting big Amberjack, Yellowtail, King Mackerel, Wahoo, Yellowfin Tuna others fast moving predator. The Knife Jig has a laser-effect finish with glow-in-the-dark underside, that attracts as many strikes on the drop as when your jigging it to the surface.
2. The Butterfly Jig - The 4 1/2",  3.5 oz. Butterfly Flat-Side Jigs have been innovatively designed to perform the best action in the most common situation of angle-vertical jigging from a drifting boat. The rear/center weight balance design lets the Jigs fall to the bottom quickly with a swinging motion. The off-set eyeball position allows for the use of two different hooks for an overall better hooking ratio.

These jigs come ready to fish with x-strong split ring and Owner Hook.