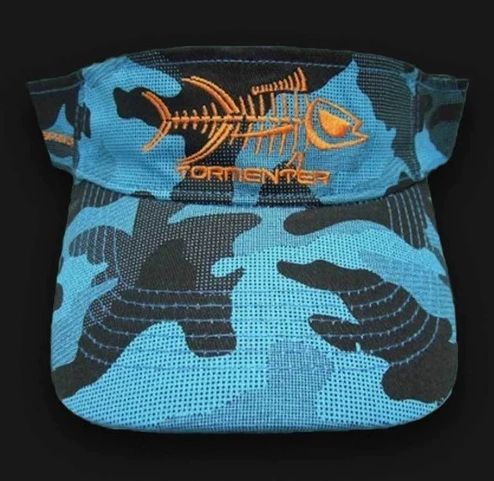 Tormentor Visors
Tormenter Hats & Visors
Attractive, Top quality visors which are Very durable and can go through the washer many times.
Our Hats & Visors have:
1. Attractive embroidered Fishbones Logos
2. Six rows of Stitching across the bill while others may have only three
3. A Plastic bill instead of cardboard allowing you to run them through the wash
numerous times without it crinkling up!
4. Three rows of stitching on the sweat band keeping it from bunching up and
from falling apart when you run through the wash. NO ITCHING!
5. REAL Velcro strap
6. Black fabric on Bottom of the bill to keep the glare out of your eyes.
Why buy other visors for $20 - $30 when these are available for $16.99?
*Please note some Logo patterns not available in all colors, Please see description below
Blue Camo - Currently Only the Grouper w/Speargun logo is available
Desert Camo - Marlin, Raging Tuna, RedFish
Forrest Camo - Marlin, Raging Tuna, Snook, Hogfish, Striper, RedFish
Navy Blue - Raging Tuna, Marlin, Striper, Hogfish, RedFish
                                                                                                                 Ladies Pink - Kissing Turtles, RedFish, Raging Tuna