Stealth - Ono (Wahoo) Lures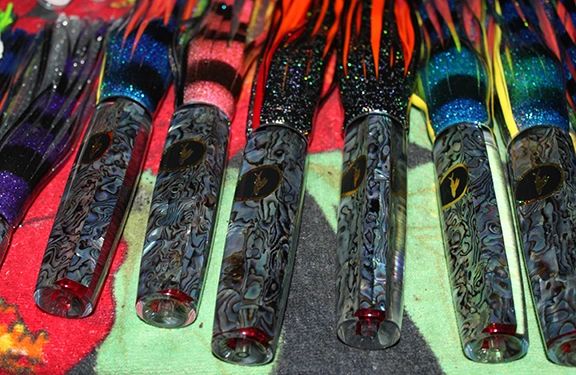 Stealth - Ono (Wahoo) Lures
Santos Stealth Lures were made specifically to target Ono (Wahoo)
Precision Weighted and Balanced to Run Upright at speeds up to 18 Knots.
i dont troll that fast myself, but Consistently catch ono between 9-12 knots.
These Lures Produce. which is why its still one of our most popular lures after being introduced many years ago.
Available in 3 sizes.
3" Head 10" Overall Length - Canary Stealth - Skirted with Green Lumo Inner with Black w/silver Flake & Red Stripe Outer

4" Head 11" Overall Length - El Salvador Stealth - Skirted in Pink/Silver/Black bars Inner & Gay Bob Outer

4 3/4" Head  17" Overall Length - Fiji  Stealth - Skirted in Rainbow Inner & Blue Top/Silver Bottom w/Yellow Stripe

i personally use the Biggest one the Fiji Stealth when Targeting Ono (Wahoo)

and use the smaller ones around buoys as a wider range of pelagics will target those (Ono, Ahi, Mahi etc.)
but all sizes are deadly in the Ono Lane. (Use the Smaller ones on Light Tackle).