Stan Ho Rare Slant Face Plunger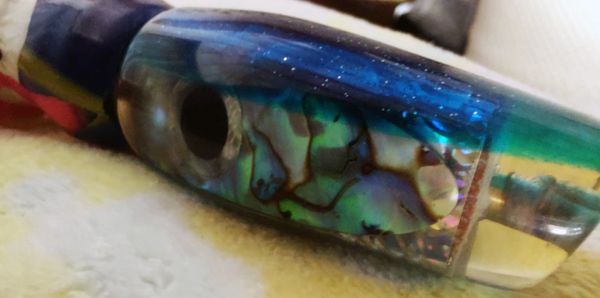 Stan Ho Rare Slant Face Plunger
Brand New Stan Ho - Rare Blue Hat, Shell Sides, Slant face Plunger
 Multi Colored Foil Under Real Shell Inserts put out a bright flash of multiple colors when the sun hits it.
Really gets it noticed.

Double Skirted with Yamashita Skirts 

skirted as shown we have caught alot of Mahi, multiple kinds of Tuna, Rainbow Runners, Ono, Blue Marlin, Striped Marlin & Spearfish
Available Rigged or Not,
Rigged is $20 Which includes 15' of either 300 or 400lb.
Lindgren Pitman Mono Leader, Single S.S. 10/0 3x Strong 

SeaDemon Open Gape Hook and our 5 layer Glue Filled heat shrink Stiff Rig build up
which allows dozens of strikes b4 having to B cut back and re-rigged
Saving you Time & Money
+ saves your prized lures from being cut off from Sharp Toothy fish
Please note the lure does have a very small divit near front, not a chip, just the way it came out of the mold, its nice and smooth but wanted to mention it. can see in last pic.
Since this is a Rare Collectors Lure it will be shipped via usps priority mail (1 to 3 days) with tracking #
 and Fully Insured to protect both buyer and seller in case of loss or damage during shipping.
Please note Full coverage insurance is included in shipping cost, which is why its a higher.
Please call if you have any questions. - Aloha