Stainless Steel Rigged Double Hook Sets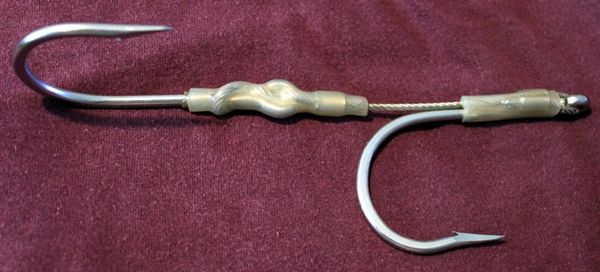 Stainless Steel Rigged Double Hook Sets
Anyone who has rigged lures with cable knows what a pain in the Okole it is, from frayed ends to strands that just dont want to go thru the crimps, &  many poked fingers, so we have made these Super Strong Double Hook Sets to make rigging your big lures Alot Easier.
These Stainless Steel Rigged Double Hook Sets use 1,000 lb. Stainless Cable, and Mustad 9/0-12/0 Hooks to Catch the biggest of fish with Confidence.
All Back Hooks are Figure 8 Wrapped for Extra Strength.
Other size hooks or custom length's can be ordered by request. call 808-345-5415 to have other sizes/lenght's custom made.
as i have time i will be adding other sizes. as well as hook sets rigged in mono.
Please Note: When all the bare wire sets are sold, we will use Coated Sevalon Wire for all new rigged hooksets instead of bare wire, as it lasts longer and doesnt fray or poke your fingers like bare stainless cable does.