Sitex SP110RF-2 Autopilot for Inboard Powered Boats with Hydraulic Steering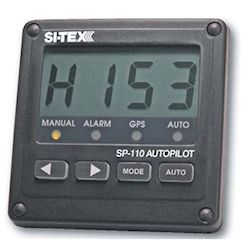 Sitex SP110RF-2 Autopilot for Inboard Powered Boats with Hydraulic Steering
Get The Most Out of Your Time On The Water with a Si-Tex Autopilot


The Si-Tex SP110RF-2 provides the user with a more enjoyable day on the water by providing a reliable steering system that will keep you on course and drive you to your destination. Designed for inboard boats with hydraulic steering cylinders under 12ci the SP110RF-2 is an excellent add-on for any vessel that spends a lot of time navigating, fishing or cruising.
With the SP110RF-2 you will also receive a 4.3" display that uses a simple four button format and large display making it easy to see and operate. Connect your chartplotter via NMEA 0183 and have your Sitex Autopilot drive you straight to your waypoint.
If you are looking for an autopilot to give you years of use at a reasonable price for your smaller powerboat then the SP110RF-2 is definitely one to look at.
Sitex SP110 RF2 Comes complete with control unit, standard rate compass, rudder feedback and all necessary hardware for flush or bracket installation.
Each Sitex SP110RF-2 Autopilot comes with: SP110 Control Unit, Electronic Compass Sensor with 5m Cable, Rudder Feedback, 12ci Hydraulic Pump, Mounting Hardware, Brackets and Operation Manual and a Two -Year Warranty.
Display Size:4.3"W x 4.3"H
Sitex SP110RF-2 Special Features
Large and Easy to Read Display
Off Course Alarm
Includes Rudder Feedback
Drive to Waypoint with Connection to your GPS
NMEA 0183 compatible.