Sitex CVS 126 Dual Frequency Color Fishfinder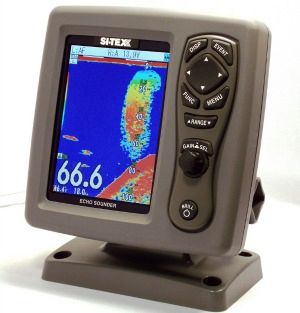 Sitex CVS 126 Dual Frequency Color Fishfinder
A Powerful 5.7" Color Sounder with Dual Frequency Capabilities.
The Sitex CVS 126 is a powerful dual frequency echo sounder for fisherman looking to catch fish. The brilliant 5.7" color LCD display is sunlight viewable with a resolution of 240 x 320 pixels. At only 7.2" tall and 7.2" wide the CVS 126 will fit on a small boat that is looking for big performance. The CVS 126 has various transom and thru-hull mounted 50/200 kHz transducers so finding one for your boat should not be a problem.

Loaded with Advanced Features.
At the heart of the CVS-126 is digital signal processing which eliminates clutter by filtering out noise. The digital signal processing lets you differentiate between baitfish, schools of fish and large fish, providing a clear picture in both shallow and deep water. Si-tex's exclusive SonaTone feature enables the CVS 126 to make different sounds for different markings, so you can hear one tone for a school of fish and another for a single fish.

Simple Operation.
The CVS 126 could not be any easier to operate with its auto Fishing and Cruising modes. The 126 will take over and automatically adjust Gain, Range and Shift. For the advanced user, the Sitex 126 will let you adjust your own settings. The rotary knob on the front allows quick adjustment of the gain and helps you navigate the simple menu selections on the CVS 126.

Other Great Features
The CVS 126 has several display modes including High, Low and Dual Frequency for seeing the 50 kHz and 200 kHz by themselves or on the same screen side by side. You can even use the A-Scope giving real time fish marks for easy identification. The Si-tex 126 also has several zoon modes including Bottom zoom and Bottom follow zoom. It is also has a NMEA 0183 input and out capability for sharing information with your other marine electronics.
Each Sitex CVS 126 comes with: Unit, Power/NMEA cable, face cover, mounting bracket and flush mount kit, and manuals.(Transducer Sold Separately) Call us 808-345-5415 to help select the right Transducer for you.
Unit Dimensions: 7.4"H x 7.4"W x 4.1"D
Display Size: 5.7" Diag.
Weight: 2.9 Lbs.
Sitex CVS 126 Special Features
Digital signal processing to enhance shallow and deep water performance.
Exclusive SonaTone feature alerts you by sound to specific markings.
5.7" sunlight viewable LCD color display
50/200Khz Dual frequency, 600 Watt output power