Single Stainless Steel 3x Open Gape Hook Stiff Rig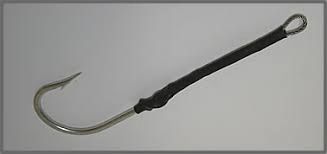 Single Stainless Steel 3x Open Gape Hook Stiff Rig
Single Stainless Steel Open Gape Sea Demon Hook Stiff Rig's
Available in sizes 8/0, 9/0, 10/0, 11/0 & 12/0
Available with 400lb. or 600lb. Stainless Cable
Or Rigged with 16' Lindgren Pitman Mono using our 5 Layer Glue filled Heat Shrink Process.
Which prevents Toothy Fish from biting Thru. can with stand dozens of Ono attacks, and will last all season with Tuna
before you have to cut it back. Saving you alot of time and money re-rigging.

Simply slide mono into backside of your lure, and crimp the loop into the top of the leader (crimps supplied)

Available in 250lb., 300lb., and 400lb. Mono
Please Note that we Only Charge actual cost for shipping, sometimes its hard to calculate right cost, especially with multiple products, but if you over pay on shipping, we will refund back the difference to keep costs as low as possible for our customers.
Please ask if you have any questions
and sorry about pics, our rigs are alot nicer, will update pics asap.