Simrad NSS12 Evo3, MFD/Sonar, Insight Charts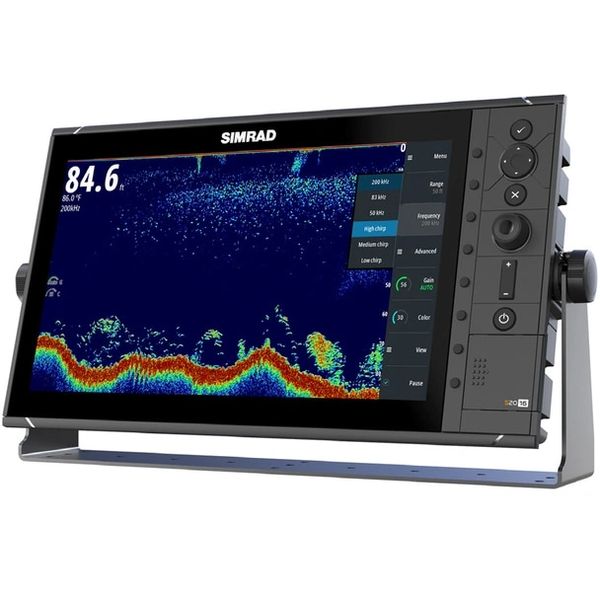 Simrad NSS12 Evo3, MFD/Sonar, Insight Charts
Simrad NSS Evo3 Multi-Function Displays
Precise, Reliable Control with Greater Visibility
NSS evo3 Features an ultra-bright, high-resolution SolarMAX HD display. Vital information is visible from wide angles, in direct sunlight and while wearing polarized sunglasses. The multi-touch display works while wet, and NSS evo3 can also be controlled by its built-in keypad for days on rough waters.
NSS evo3 displays are compatible with Simrad expansion modules including game-changing Structure Scan 3D imaging, advanced sounder module with CHIRP technology, and many other plug-and-play devices. Capabilities can be shared between multiple NSS evo3 displays, and sonar data from multiple sources can be viewed simultaneously on a single NSS evo3 display in a customizable split-screen configuration.
The NSS evo3 excels at offshore fishing with dual channel CHIRP, giving you wide and deep sonar images from the same transducer, and is compatible with Structure Scan 3D and forward-looking sonar capabilities for added safety while in shallow or unfamiliar waters.
FishReveal Smart Target View makes fish easier to see on DownScan Imaging by combining crystal-clear CHIRP sonar fish targets with superior, high-resolution views of bottom detail, structure and bait fish.
Enhanced Sonar Imaging for Structure Scan 3D/HD offers a new dynamic color range and tone strength result in high-visibility contrast never seen in scanning fishfinders. A wider range of color enhances the near-photographic images of SideScan, DownScan Imaging and StructureScan HD/3D.
C-MAP Easy Routing and Navionics Dock-to-Dock Autorouting allows you to navigate faster and easier with automatic route planning. Menu activated, the feature automatically plots the shortest and safest course based on a boat's draft, beam and height, creating a route around a landmass, shoals and other fixed navigational hazards. Requires C-MAP MAX-N+ charts, Navionics+ or Navionics Platinum charts.
C-MAP Navigation Palette enhances the readability of C-MAP charts, especially near shore, making it easy to tell where the boat is in relation to a channel, navaid, ledges and drop-offs, or a point of land.
MotorGuide Xi5 Trolling Motor Control lets you operate the Xi5 trolling motor from the touchscreen of your Simrad display, making it easy to maintain your current position or navigate to a new one without leaving the helm. Navigation options include navigating to cursor, a heading, waypoint, along a route, or pre-defined turn pattern.
NSS evo3 displays let you take control your way. Switch seamlessly between intuitive touchscreen operation with multi-touch gestures, and a full-featured keypad with rotary control dial. SolarMAX HD display technology keeps everything in sight with ultra-wide viewing angles, and provides a clear view under any lighting conditions--even if you're wearing polarized sunglasses. It's easy to monitor and control all of your on-board electronics with simple menus, customizable split-screen layouts, and a user-programmable function key for one-button access to the features you use most.
Every NSS evo3 system is equipped with a built-in GPS receiver to enable precise navigation, and a built-in echo-sounder to support a variety of sport-fishing and power boating activities. Structure Scan HD imaging provides picture-like views of fish-holding structure, while award-winning ForwardScan sonar offers a safer cruising experience with a clear view of the bottom ahead. CHIRP-enabled sonar provides reliable bottom-tracking and fish-finding performance, including support for dual-channel CHIRP transducers that deliver coverage of multiple depth ranges from a single unit. Dual transducer ports offer the convenience of connecting multiple transducers to a single display.
Industry-standard connectivity makes it easy to create multi-display systems and link your displays to all of your on-board electronics. Monitor engines and fuel efficiency, control your on-board sound system, and so much more. Expand your system with Simrad modules and accessories: fish smarter with game-changing Structure Scan 3D imaging, see further with revolutionary Halo Pulse Compression radar, and free your hands from the wheel with a fully integrated Simrad autopilot. Built-in wireless connectivity lets you mirror your display to on-board smartphones and tablets, and enables easy online software upgrades through any wireless internet hotspot.
Features:
Widescreen display with ultra-wide viewing angles
Switch seamlessly between touchscreen and keypad controls
Built-in GPS receiver, wireless connectivity, and echosounder
Control Simrad sonar, radar, autopilot, and other accessories
Industry-standard connectivity to engines, sound systems, and more
Easy trip planning and support for automatic routing
Choose low-profile flush mounting or convenient bracket mounting
Includes Insight charts (Navionics and C-Map optional)