Simrad NAC-2 Autopilot Core Pack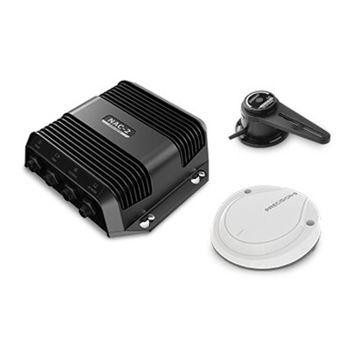 Simrad NAC-2 Autopilot Core Pack
Autopilot Core Pack – Just add Pump and Controller!
The Simrad NAC-2 Autopilot Core Pack consists of the parts you need to start your autopilot system. Designed for inboard and inboard/outboard boats up to 35' with hydraulic cylinders less than 15.2 ci, mechanical steering or solenoid valve steering (8 Amps continuous, 12 Amps peak). Simply add a display (AP44 or AP48) or a compatible Simrad chartplotter and a drive/pump if required and your boat is ready to drive you to the fishing grounds.
The NAC-2 Autopilot Computer is the brain behind your autopilot system. It contains the control algorithms developed to steer a vessel across a broad range of weather and sea conditions.
The Precision-9 Compass is a NMEA 2000 heading sensor that outputs heading at 20Hz (20 times per second), rate of turn at 20Hz, roll, and pitch at 10Hz. This all equates to you getting the most accurate heading data possible fed to the autopilot computer for faster and smarter control.
The RF-25 rudder feedbackprovides engine or rudder angle to the autopilot computer. It is just more info for the NAC2 to provide smart steering. This data is also visible on the display which helps the captain know which direction the boat is steered when not in motion.
These combined components matched with a display and drive (if required) provide for a much more relaxing day on the water or a better fishing experience by taking human error out of the equation.
Each Simrad NAC-2 Autopilot Core Pack comes with: Simrad NAC-2 Autopilot Computer, RF25N Rudder Feedback, Precision 9 Compass, NMEA2000 Starter Kit, Fixing Screws, Warranty Card, Literature Pack and Two-Year Warranty
Simrad NAC-2 Autopilot Core Pack Special Features
Core components for a Simrad Continuum autopilot system
Includes RF25N Rudder Feedback
Ideal for Boats for up to 35' in Length
Easy Set Up
Control via AP44, IS42 and OP12 or Networked MFD