Multi-touch display for intuitive, tablet-style control
The GO series offers true ease of use with intuitive touchscreen controls that smartphone and tablet users will find instantly familiar. Customize your home screen with the features you use most, and see everything you need on screen at once with adjustable split-screen views. Mark waypoints on charts with a touch, and easily assign meaningful names and symbols that make them quick to find when you are planning your next trip.

Stay on course with C-MAP DISCOVER charts
GO series displays are available with C-MAP DISCOVER charts, featuring ultra-wide coverage in the US and Canada. DISCOVER charts include full-featured Vector Charts, Custom Depth Shading, Tides & Currents and the very best of C-MAP high-resolution Bathymetric contours, including integrated Genesis® data. Use C-MAP Easy Routing™ to make planning your next trip on the water as easy as planning a trip in the car, and always have the latest DISCOVER chart data with 12 months of free online updates. If you would rather pick your own chart, GO displays are compatible with a wide range of optional charts, including C-MAP, Navionics®, Florida Marine Tracks and more.

Wireless and wired connectivity take your display beyond the bridge
Built-in wireless connectivity mirrors your display to a compatible smartphone or tablet, giving you instant access to charts, radar and other functionality from anywhere on board. Wireless also enables easy online software updates via an internet hotspot. Industry-standard NMEA 2000® connectivity offers a wide range of expansion and integration options: monitor your boat's engine performance and fuel efficiency, steer your boat with a Simrad autopilot, or control your on-board entertainment system from your GO series display.

Turn your display into a fishfinder
Choose from a wide range of fish-finding sonar options to suit your vessel, from CHIRP or traditional sonar transducers for a classic fish-finder view, or get all your fish-finding sonar in one transducer with Active Imaging Imaging™ 3-in-1. Active Imaging brings the world-class clarity and target separation of CHIRP Sonar, plus incredible detail of reefs, drop-offs and wrecks from SideScan and DownScan Imaging™.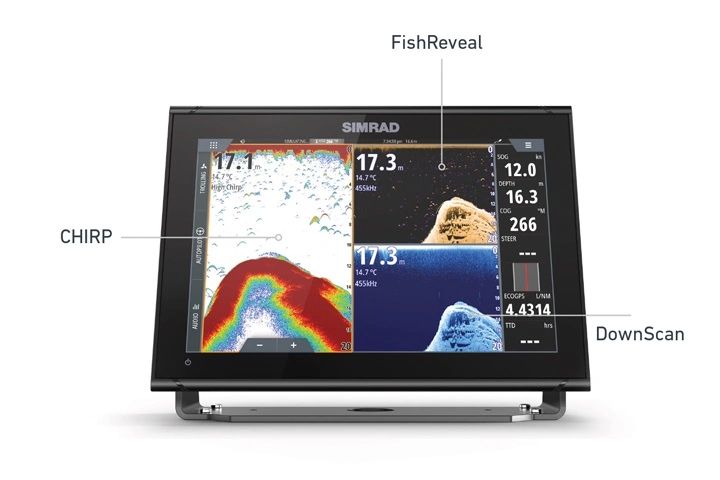 Find fish and track depth
A transom-mounted HDI Skimmer® transducer delivers fish-finding sonar for amateur anglers, and offers a simple way for powerboating enthusiasts to keep an eye on depth. CHIRP technology enables clear detection of fish throughout the water column, while DownScan Imaging™ sonar creates a picture-like view of fish-holding structure beneath your boat. FishReveal™ technology combines these two specialized views into a single, crystal-clear picture of fish and structure.

Active Imaging™ transducer pinpoints fish and structure
Your GO series display works as a powerful fishfinder when combined with the easy-to-install, transom-mounted Active Imaging™ transducer. Enjoy all the advantages of CHIRP Sonar, SideScan and DownScan Imaging, which deliver a wide-angle view of fish-holding structure beneath and to the sides of your boat. Find structure faster, and have an easier time identifying fish on DownScan Imaging with FishReveal™.

HALO24/HALO20+ deliver the ultimate in situational awareness
Our revolutionary HALO24 and HALO20+ pulse compression dome radars deliver industry-leading 360-degree sweeps every second at close range, for the ultimate in collision avoidance of stationary and fast-moving targets. With high-quality short, mid and long-range detection, these feature-packed dome antennas ensure targets can be seen vividly - even in the toughest environmental conditions.
Latest software updates feature a host of Radar panel and AIS user improvements (GO7 and above). These include:
Visual enhancements to graphics and data displayed. Such as Plan Position Indicator (PPI) design improvements and AIS targets displayed as an outline of a vessel.
A new menu structure, allowing easier access to commonly used controls and features.
New AIS and MARPA target symbols providing additional information for stationary and moving targets supported by better graphics for clearer visual explanation.
Moving Radar MARPA and AIS targets now display a graduated trail showing the vessel's past position history on the radar PPI. Duration of history length can be customised.
Simplification of displayed targets by combining MARPA and AIS targets for the same vessel as one symbol.
A significant new safety and situational awareness tool, a Dangerous Target Alert; appearing in a pop-up window, that not only alerts the user, but guides them to the relative range and bearing of the dangerous target.
The introduction of new 'adjustment handles' making it easier to set Guard zones using a touch screen.

HALO20 radar offers a cost-effective solution

Our HALO20 Radar systems are a great way to add pulse compression technology to smaller powerboats. See channel markers from right off the bow to storm cells 24 nautical miles away. These compact dome radars are easy to install, have low power needs, and wake instantly from standby to give you radar coverage exactly when and where you need it.