Si-Tex SVS-880C 8.4" Chartplotter with Internal Antenna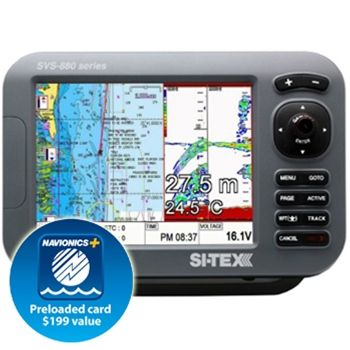 Si-Tex SVS-880C 8.4" Chartplotter with Internal Antenna
8.4" Chartplotter providing powerful performance at an affordable price point!



Si-Tex introduces into their line of large screen chartplotters the SVS-880C which brings an 8" Color LCD with LED Backlight for excellent readability in difficult light situations.
The SVS-880C has an internal 52 channel GPS antenna, which means easy installation, just mount the SVS-880C and connect to power and you are done, no need to run a cable or buy another mount and connect a GPS antenna somewhere else on the top. The GPS antenna of the SVS-880C is able to connect with WAAS the U.S. satellite system but also the European Galileo, Russian GLONASS and Asian QZSS satellite systems as well, a completely global system.
Waypoint storage in the SVS-880C is also impressive with its ability to mark and store up to 20,000 waypoints in 16 colors and icons, and also up to 6 digits for naming them. Si-tex has manufactured the SVS-880C to be able to read both Navionics and C-Map cartography in the feature they are calling "Dual Fuel". The SVS-880C comes with Navionics+ American Chart Card offering coverage for all of the coastal waters for North America as well as many inland lakes and rivers.
If your only need is for a durable, easy to install, highly visible chartplotter, that will provide you great performance for years to come then the Si-Tex SVS-880C should be on your list of possible options.
Included Navionics+ Charting
The Navionics+ Chart Card that comes with each Sitex SVS provides high detail navigation charting coverage for all of North America including Canada and fresh water lakes. Navionics+ also provides unlimited navigation chart updates with Freshest Data, sonar chart downloads and community edit downloads free for one full year.
Each Si-Tex SVS-800C comes with:Si-Tex SVS-880C, Navionics Plus Chart Card, Sun Cover, Mounting Bracket, Knobs, Power Cable, Fuse & Bolts, Manual and a Two-Year Warranty.
Display Size: 8.4" Diag.
Si-Tex SVS-880C Special Features
20,000 waypoints
Easy operation
"Dual-Fuel" Charting
52 channel internal GPS
8" Color Hi-resolution screen