Si-Tex SVS-1010CE with External Antenna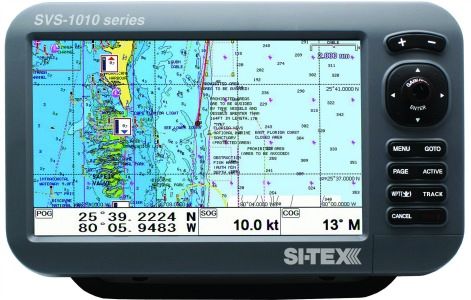 Si-Tex SVS-1010CE with External Antenna
Bright 10.1" Color Chartplotter with storage for up to 20,000 Waypoints



The SVS-1010C with external GPS receiver is the perfect solution when your GPS is mounted in a pilot house. Locking into position quickly and efficiently the SVS-1010CE shows your vessel moving seamlessly on top of the included Navionics+ Charting. Operation of the SVS-1010C is easy and intuitive with one key to access menu keys and move the cursor. Si-Tex has incorporated what they are calling "Dual Charting" into the SVS-1010C which means that both Navionics+ and C-Map Max charts can be read by the card reader so you can use to navigate with either.
Included Navionics+ Charting
The Navionics+ Chart Card that comes with each Sitex SVS provides high detail navigation charting coverage for all of North America including Canada and fresh water lakes. Navionics+ also provides unlimited navigation chart updates with Freshest Data, sonar chart downloads and community edit downloads free for one full year.
The SVS-1010C comes standard with a Navionics+ Chart Card that is provided by Si-Tex. In addition to being able to run both Navionics and C-Map charts the memory of the SVS-1010C can hold up to 20,000 named waypoints, a track log of 50,000 points and 100 routes of 20 points each. Other marine equipment like autopilots, sensors, and vhf radio, can be connected to the SVS-1010C via NMEA 0183.
Large screen performance in a chartplotter! Si-Tex' SVS-1010C is a stand-alone unit that has a 10.1" color high-resolution LED back lighting display that is sunlight view-able and has a lot to offer to the mariner who is looking for a large screen, easily view-able and operated chartplotter. The SVS-1010C is a solid choice for any vessel from center console skiffs, to sailboats and even light commercial vessels.
Each Si-Tex SVS-1010CE comes with:Si-Tex SVS-1010C, Navionics+ Chart, External GPS Receiver, Sun Cover,         Mounting Bracket, Knobs, Power Cable, Fuse & Bolts, Manual and a Two-Year Warranty.
Display Size:10.1" Diag.
Si-Tex SVS-1010CE Special Features
20,000 waypoints
Easy operation
"Duel-Fuel" Charting
2 channel internal GPS
10.1" Color Hi-resolution screen