2. Sea Demon Stainless Steel Welded Eye 3X Hooks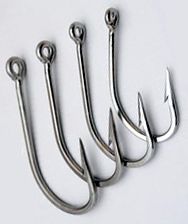 2. Sea Demon Stainless Steel Welded Eye 3X Hooks
3X Strong Sea Demon Hooks With Welded Closed Eye
These are the same Great hooks we use to rig all our trolling lures with,

But with the added Safety of a Fully Welded Closed Eye
So your Leader can never get caught between the bend of the eye and the hook
Which can lead to Line Failure. With the Welded Eye
It Eliminates one of the Potential Problems of Non-Welded Closed Hooks.
7/0 - 10/0 sizes are just $3.00 ea. and the 11/0 & 12/0 are $3.25 ea.