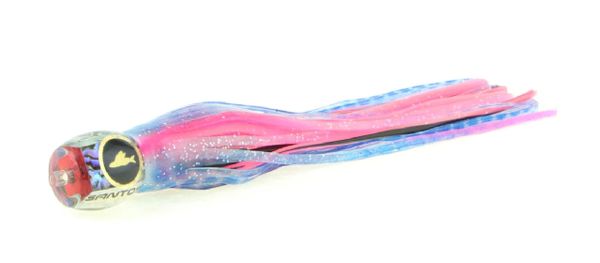 Aussie Raptor - Flat
A time tested favorite from down under! This well balanced straight runner has the perfect combination of pop and smoke that will drive Tuna wild. With its balanced LibraTech(TM) insert, it will run well from 6-10 knots in most conditions. The Aussie Raptor is particularly suited to the Long Rigger or Shotgun position. The Aussie Raptor is also an effective lure for Striped Marlin, Sailfish, Dorado, and Wahoo.

Conditions: Calm to Moderate/Heavy

Position: Short Rigger, Long Rigger, and Shotgun.

Skirt Size: S2

Weight: 2.5 OZ

Diameter: 0.95"

Head Length: 1.1"

Overall Length: 8.5"

Recommended Hook Size: 7/0 - 8/0


Recommended Leader: 120 - 200 Lb.
When Ordering YOU NEED to Select Either a Stock Color Combination, or specify a custom inner and outer skirt color.
Santos Premium Skirted Trolling Lures
Santos offshore big game trolling lures are hand cast from premium urethane which does not require sanding after demolding, and therefore ensures that every lure is identical to the precision engineered prototype. Unlike most trolling lures which are made of polyester resins, urethane lures are optically clear, ultra hard, UV stable, and can be produced with perfect design proportions. Additionally, each lure is heat cured for the ultimate in durability.
We use only the finest AAA grade abalone shell veneers, soft PVC anti-chafe leader tubes, and custom made Santos Holographic eyes for our lures.
Each lure tailstock is precision CAD designed to perfectly fit our double hand tied skirts, and to make an ideal hydrodynamic transition. Tied skirts allow for easy replacement compared to glued skirts.
Each Santos trolling lure features our proprietary LibraTech(TM) LCM (Low Center of Mass) insert technology that insures that the lure stays upright, and is able to achieve significantly higher trolling speeds. With an upright lure, hookset position and orientation within the skirts are further maintained by our Santos RigLock(TM) system which is a standard feature of all of our big game lures.
Santos bluewater trolling lures features supple, vibrant, and durable skirts made in the USA by Ocean Lure Concepts. There are no finer skirts available.