Salina Vapor Big Quad Jet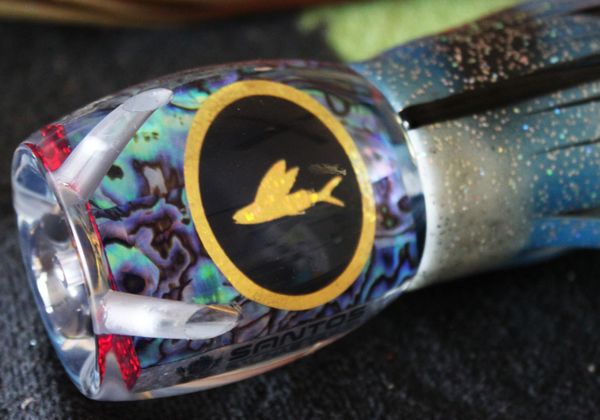 Salina Vapor Big Quad Jet
The Salina Vapor series lures feature Quad Jet cupped faces for big twitches, pops, and massive eruptions on the surface.
The cupped face and venture jets create a massive smoke trail of cavitation and commotion
that drives all pelagics into attack mode.
This is the Biggest, Baddest Lure in the Vapor Series with a Massive Head face almost 3" Long and 2 3/4 " Tall about the size of someones Palm. Made to Raise the Biggest Fish Out There. Also Great as a Teaser.
The Salinas Vapor can be trolled in any position, but it is most suited to the short rigger.
The Salinas is an exceptional and productive heavy water lure. As such, it is a favorite among professionals and tournament anglers who need to make the most of every minute on the water. Santos offshore big game trolling lures are hand cast from premium aerospace grade urethane which comes out of the mold identical to the precision engineered prototype, and as smooth as glass. Unlike most trolling lures which are made of polyester resins, urethane lures are optically clear, ultra hard, chip and crack resistant, UV stable, and can be produced with perfect design proportions. Each lure is also heat and pressure cured for the ultimate in durability. We use only the finest AAA grade shell veneers, soft PVC anti-chafe leader tubes, and custom hand painted Santos Holographic eyes for our lures. Santos lure tail stocks are precision CAD engineered to perfectly fit our double hand tied skirts, and to make an ideal hydrodynamic transition from the head to skirt. Santos trolling lures feature our proprietary (TM) LCM (Low Center of Mass) insert technology that insures that the lure stays upright, and is able to achieve significantly higher trolling speeds. With an upright lure, hook set position and orientation within the skirts are further maintained by our Santos RigLock(TM) system which is a standard feature of all of our big game lures.
Which allows you to orient your first hook in the Upright position for stronger Upper jaw Hook Up.
Santos blue water trolling lures features supple, vibrant, No Eye durable skirts made in the USA by Ocean Lure Concepts.
This Monster is Sure to Raise the Big Ones.
Only 1 Left Skirted in Gay Bob(Blue/White/Black Bars over Metallic Pink/Silver/Black Bars