Rigid Industries D-Series Marine LED Light Pod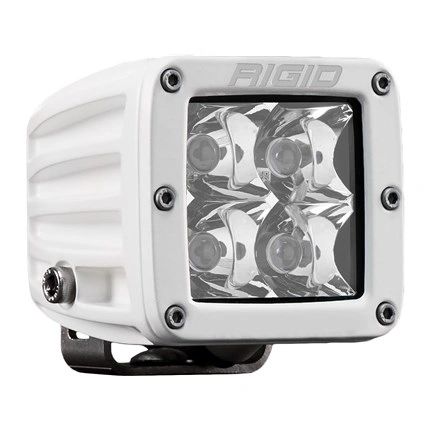 Rigid Industries D-Series Marine LED Light Pod
Rigid Industries D-Series White Marine Dually LED Light with Surface Bracket Mount or Flush Mount
Part #: 60251

Big Power in a Small Package:
  The Rigid Industries D-Series LED Light is one of the most versatile lighting products on the market today. It produces extremely high output while consuming very little power. Its compact size and shape allow the D-Series LED Light to fit almost anywhere and be used for virtually any lighting application.
Spreader Lights:  Bright lights that are designed to cover a wide area. Used on many types of marine applications from Sail boat masts and off shore fishing boat towers to light up the fishing area or deck. Power boats, fishing boats and other boating platforms also use spreader lights are used to light up decks, underneath gunnels and anywhere you need to light up a large area.
Marine Grade:  The Marine Series products are given special attention due to the elements they will be exposed to in a marine environment. The aluminum housing receives a chromate conversion coating that acts as a corrosion inhibitor against elements such as salt. We then give the housing a high quality, UV-resistant powder coat finish. We use 316 marine-grade stainless steel hardware that receives a coating that's been tested for over 1,000 hrs of corrosion resistance. The mounting bracket included with our marine products is also 316 stainless steel. This product does not include a wire harness or switch, due to the fact that most installations on marine equipment are custom and require smaller holes and unique components.

Flush Mounts:  This particular model is specifically designed to be recessed into a truck bumper, a utility bed, the hull of a boat, or any application where you need the light to look clean and be out of the way. Once installed, the light is only 1/4" tall, which means you can have all the benefits of our surface mount lights in an OEM quality, flush installation.

Hybrid Optics:  Our patented Hybrid optics system is the most powerful, most efficient LED optics system on the market. Utilizing a combination of lens and reflector, the Hybrid optics system captures the maximum amount of light emitted from the LED and projects it exactly where you want it.

20º Flood Patterns:  The Flood version of our Hybrid optics system is a great option if you're looking for a good area light. While offering just over half the distance of the Spot version, the Flood provides twice the area coverage. The Flood is perfect for those looking for an area light at an affordable price.

10º Spot Patterns:  The Spot version of our Hybrid optics system projects light over great distances in a concentrated beam. It's the most powerful spot-style LED light in the industry. This light is perfect for high speeds or any situation where you need extreme distance. The Spot offers a wider beam with less waste than the competition. While maintaining higher center intensity than any other system available.

Diffusion Lens:  Perfect for scene or area lighting, our diffusion lens was specifically engineered to project light at a 60º flood pattern. Combine that with our patented optics and you have the best LED flood light in the industry. Like our standard lens, the diffusion lens is made from optically clear, unbreakable polycarbonate plastic.

Quality Construction:  Our circuitry is designed in-house to be more powerful, be more efficient, and generate less heat. Our durable aluminum housings feature custom, over-sized heat sinks which keep the temperature down and allow our LED's to run cooler and brighter. All Rigid Industries LED lights receive a high quality powder coat finish, a custom-molded rubber seal, and an unbreakable, scratch resistant lens. Rigid Industries LED lights are engineered to withstand whatever you, the road, or nature can throw at them.

Features:
Patented Hybrid Optics
10° Spot Pattern
50,000+ Hr LED Lifespan
Instant On / Off - No Warm Up
RoHS Compliant
Over / Under Voltage Protection
Cast Aluminum Housing
Durable Polycarbonate Lens
Integrated Thermal Management
GORE® Pressure Equalizing Vent
Designed, Engineered, & Assembled in the USA