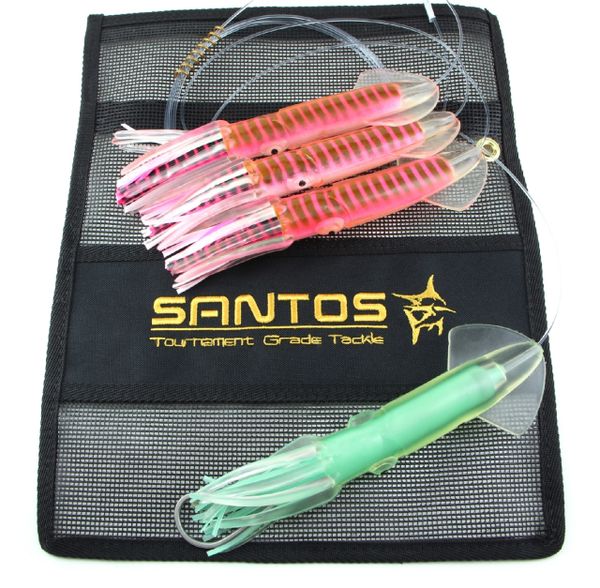 Gloucester Squid Chain
Santos Big Game Lure Chains
If there's ever a "can't miss" element to your lure spread that should never be absent, it's a "multiple" teaser of some type.  It's like ringing the pelagic dinner bell with the commotion, splash, and attention that they offer up.  Our Lure Chains, Squid Chains, Dredges, and Teaser Bars are designed to specifically emulate fleeing baitfish that form into bait balls, and other evasive patterns while under predator attack.  Predators engage instinctively. They're incapable of leaving these chains alone! 
Chains are a highly effective component of any arsenal when targeting Tuna, Sailfish, Marlin, Dorado, and Wahoo.  Although every spread should contain a chain, they are especially useful in getting results when things need to be changed up.
The Santos Gloucester Chain features 3 SR Soft Squid as teaser lures, and an SR Soft Squid as a hooked stinger.  Rigging is Momoi 220 lb X hard mono with Fluorocarbon optional.  The stinger features an 8/0 7691 Style Masuta Kobura Stainless Steel Single Hookset.
Choose a color from the photo selection.
Each Chain comes with a premium embroidered lure bag made in the USA.
 Santos Premium Skirted Trolling Lures
Santos offshore big game trolling lures are hand cast from premium urethane which does not require sanding after demolding, and therefore ensures that every lure is identical to the precision engineered prototype.  Unlike most trolling lures which are made of polyester resins, urethane lures are optically clear, ultra hard, UV stable, and can be produced with perfect design proportions. Additionally, each lure is heat cured for the ultimate in durability. 
We use only the finest AAA grade abalone shell veneers, soft PVC anti-chafe leader tubes, and custom made Santos Holographic eyes for our lures. 
Each lure tailstock is precision CAD designed to perfectly fit our double hand tied skirts, and to make an ideal hydrodynamic transition. Tied skirts allow for easy replacement compared to glued skirts. 
Each Santos trolling lure features our proprietary LibraTech(TM) LCM (Low Center of Mass) insert technology that insures that the lure stays upright, and is able to achieve significantly higher trolling speeds. With an upright lure, hookset position and orientation within the skirts are further maintained by our Santos RigLock(TM) system which is a standard feature of all of our big game lures. 
Santos bluewater trolling lures features supple, vibrant, and durable skirts made in the USA by Ocean Lure Concepts.  There are no finer skirts available.