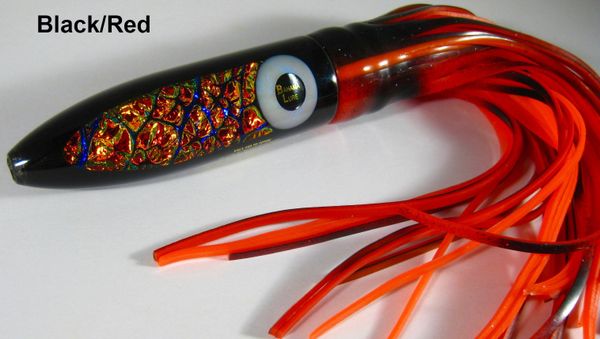 Callisto Bullet
Bahama Lures
Callisto
is a classic bullet shaped lure great for Hi-Speed Ono (wahoo) or a way way back lure.
The big Callisto size 50 or 12" is fantastic for all out war at warp speeds for the big Ono's !
The smaller size 30 or 9" is an awesome all around Pelagic Catcher,
Both sizes feature keel weights to keep them running true with no spin.
If your Planning on Running this in the Ono Lane, Wire Leader is Recommended.
Excellent off the Long, and short Rigger, and we love the 9" on the shotgun, its Proven very Effective.
Multiple Rigging Options are Available.
Recommend the 9/0 Hook for the 9" and the 10/0 Hook for the 12"
All Rigged Lures will have 15' of Lindgren Pitman 300 lb. Leader on the 9" and 400lb. for the 12" Lures.

We use Our Proven Sea Demon 3x Strong Stainless Steel Hooks. 4x Strong Hooks Available upon request.

Custom Length and lb. Test Available, just call me with your specific needs. 808-345-5415
the 9" size 30 Black/Red, The Glow White, & Blue DragonHide are In Stock, Other Colors/size available within a week or two.

size 30 - $39.99
size 50 - $54.99