Polu Kai 7-8" Blue Hat Shell Side Cup Face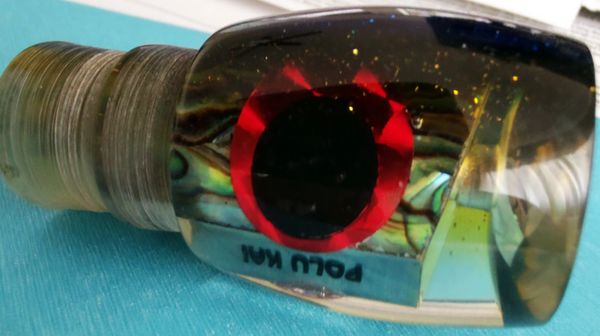 Polu Kai 7-8" Blue Hat Shell Side Cup Face
Brand New Polu Kai 7-8" Blue Hat with multi colored Sparkles, Shell Color flashing inserts on Sides
Double Poured, Cup Faced Lure.

Only 1 Left !

Has a dark Blue Hat with multi colored Sparkle Flakes

that put out a bright flash of multiple colors when the sun hits it.
The cup face gives this lure a nice side to side wiggle while holding its place in the water at a wide range of speeds.
The cup face keeps it from skipping across the surfce even in rough seas.

 This lure has caught just about every thing here in hawaii
we have caught Mahi, Ahi, Rainbow runners, Ono, Blue marlin
Striped Marlin , Spearfish, and the Occasional Sailfish

Uses 7-8 " Skirts
Available Double Skirted, Rigged or Not,
Rigged $20 includes 15' of either 300 or 400lb.
Lindgren Pitman Mono Leader, Single S.S. 10/0 3x Strong 

SeaDemon Open Gape Hook and our 5 layer Glue Filled heat shrink Stiff Rig build up
which allows dozens of strikes b4 having to B cut back and re-rigged
Saving you Time & Money
+ saves your prized lures from being cut off from Sharp Toothy fish