Pitbull Tackle UV Hot Tail Swim Baits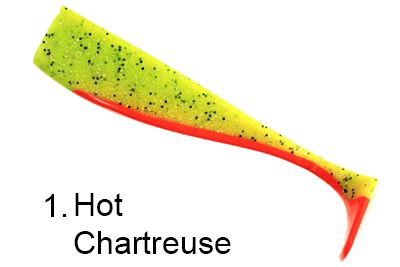 Pitbull Tackle UV Hot Tail Swim Baits
Pitbull Tackle UV Shad Jig Heads
- The Ultimate Way to Rig Your Soft Plastic Swim-baits -


Now available in 6X Glow!


The Pitbull Tackle UV Shad Jig Heads are the perfect option for fishermen using soft plastic swim-baits or grubs. These Jigs get Pounded by Tuna of all Species.
Designed by highly experienced California coastal anglers, these UV Jig Heads possess a semi-triangular head design that enable them to swim true and make their way through various types of obstructions with ease. Adding a hint of realism that really distinguishes their product from others, Pitbull Tackle elected to utilize recessed oversized eyes that fit within the design of the jig head and are far more durable than the simple sticker variety. The triangle head is designed to perfectly line up with a swim-bait resulting in perfect rigging and presentation every time. Perhaps the most notable feature is the UV-enhanced paint that appeals to fish's natural ability to see a greater range of color than the human eye. Whether it's deep rocks or canopy style kelp beds, with a lack of light below the surface, UV-enhanced paint gives life to your lures unlike any other traditional paint finish. To give the angler even more confidence in these heads, each jig-head is constructed around a super sharp 2X hook.
Most anglers use Pitbull Tackle UV Shad Jig Heads for saltwater swim-bait and grub applications, mostly around coastal areas where reeling swim-baits through kelp and rock is an effective technique for many species of fish. Each jig-head is designed to perfectly match up with the large variety of Pitbull Tackle UV Hot Tail Swim-baits  Check out the image below as it shows the ultimate matching combination of jig-head and swim-bait.

NOTE: We have replaced our original glow paint with our new 6X Glow. 6X Glow is not available in 2.5oz or 3oz currently.


How To Rig and Fish:
The ultimate way to rig your soft plastic swim-baits has arrived. The Pitbull Tackle UV Shad Jig Heads offer superb quality at an affordable cost. These jigheads can be used on any type of swimbait, but for the ultimate presentation we suggest matching both the Pitbull Tackle Shad Jig Heads and the Pitbull Tackle Hot Tail Swimbaits. Below is the process on how to use the integrated hook channel in conjunction with Pitbull Tackle Swimbaits.

Rigging Pitbull Tackle Swim-baits with the UV Shad Jig Head:
Begin by threading the hook point through the hollow channel entrance hole in the front of the bait

The hook point will slide through the channel until it reaches the back of the channel. At this point, slide the hook point through the top of the swim-bait body
With light pressure, continue to thread the swim-bait onto the jig-head by pushing the front of the swim-bait to the flat surface on the backside of the jig-head
The swim-bait should sit flush on the jig-head. This process can be repeated with all Pitbull Tackle Swim-baits
Helpful Rigging Tips and Tricks:
We here at Pitbull Tackle understand the demand for excellent quality and presentation when fishing, it is a core premise in the design of all of our products. When it comes to swim-bait fishing, many anglers want their presentation to be flawless, and we don't blame them. Pairing swim-baits with jig heads can be tedious, especially without seeing the product in-person. Varying hook sizes, hook shank lengths, head sizes, and different manufacturers all have slightly varying products which can be frustrating when seeking out a consistent, uniform presentation. Below we have created a helpful guide to help you choose the perfect size UV Shad Jig Head for each swim-bait.



*NOTE: These are guidelines to follow for rigging, every angler has different preferences on hook placement and rigging. The suggested sizes represent the best hook fit per bait, but fishing with smaller and larger sized hooks typically will not affect the presentation of the swim-bait.


Specifications:
We offer the Pitbull Tackle UV Shad Jig Heads in 5 sizes:  1oz , 2oz, 3oz, 4oz, 6oz

Available in 6 UV ENHANCED colors: Blue, Green, 6X Glow, Chartreuse, Orange & Red