McMurdo Smartfind Plus G5 CAT II EPIRB with GPS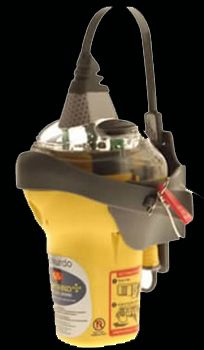 McMurdo Smartfind Plus G5 CAT II EPIRB with GPS
Stay Safe Offshore with a McMurdo EPIRB
The McMurdo Smartfind G5
is a Category 2 EPIRB built to meet the standards of both Recreational and Commercial Mariner's alike. The SmartFind G5 Cat II is a GPS Enabled 406 EPIRB with manual release activation.
McMurdo designed the Smartfind G5 to be easy and quick to activate which is exactly what the user would want in case of a real life emergency. The high brightness flashing locator lights along with the built in 121.5mHz homing sensor guides the local authorities to your exact location. Every minute that you are out there can make the difference in a life or death situation.
The Smartfind G5 has a 5 Year Battery Life along with a 5 Year Manufacture Warranty on the Battery. Once activated, the Smartfind transmits for a minimum of 48 hours.
Designed to be the only life saving device that you will ever need, The McMurdo SmartFind G5 CAT II Emergency Position Radio Indicating Beacon is something you want to be sure you don't leave shore again without. This device offers safety and assurance, that in the case of an emergency, you will be located and rescued.
Please note all EPIRB's and PLB's are programmed for registration in the USA.