Marlin Magic Double Poured 9" Explosivo Lure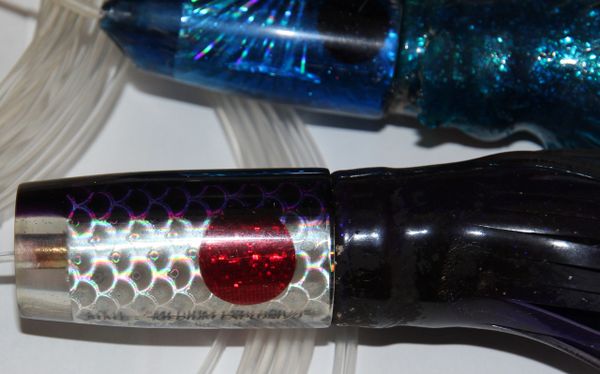 Marlin Magic Double Poured 9" Explosivo Lure
Marlin Magic Double Poured with Purple Hat 9" "Explosivo" w/Bright Red Eyes - Only 1 Left !

The Red Eyes and Multi Colored Foil Inserts under the shell

puts out a bright flash of multiple colors when the sun hits it.
Really stands out & gets noticed.
Double Hand poured with a Purple To/ Clear Bottom
Lure a straight runner, that makes a Huge spash when it hits the surface, before diving back down with a huge bubble trail
perfect off the long riggers and shotgun

Enticing Strikes from just about everything.

Marlin Magic Lures are all Hand made one at a time by Gary Eoff

and have a Worldwide following for a good reason
These Lures Catch fish.
Lure is Fully Rigged with Double Stainless Steel  Mustad 7791 Sea Demon Hooks on 400lb. Momoi Leader

Double Skirted with 2 Thick No eye, O.L.C. Skirts
in the Black/Purple over Blue Metallic colors 

a proven color combo that glows underwater with the U.V. Pigments in the Skirts

 We have caught alot of fish on this Head shape/size & color and almost always have 2 out in the spread
Have Caught Ahi, Mahi, Ono, Rainbow Runner, Shortbill Spearfish, Sailfish and Blue and Black Marlin
Proven performer, there's a reason why Marlin magic Lures are so Popular