Futa Cracked Glass 9" Slant Face Plunger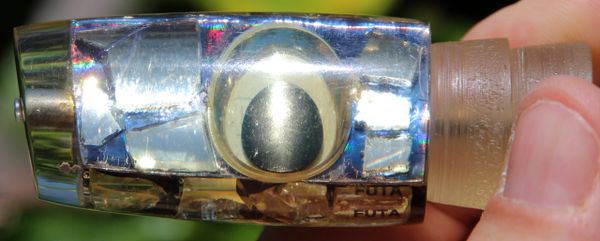 Futa Cracked Glass 9" Slant Face Plunger
Futa 9" Cracked Glass Slant Face Plunger w/Big White Eyes - Only 1 Left !

The Chunks of Glass Mirrors

puts out a really bright flash of colors when the sun hits it.
Really stands out & gets noticed.
This  9" Slant Face Plunger

has a nice up and down motion as it swims, Making a nice splash when it Pops the Surface
before diving back down with a nice bubble trail

Enticing Strikes from just about everything.
Perfect off the long riggers and shotgun
Futa Lures are all Hand made one at a time by Tom Futa

and have a Worldwide following for a good reason
These Lures Catch fish.
Available as Head Only as Shown or
Double Skirted with 2 Thick No eye, O.L.C. Skirts
in the Blue/silver/pink w/blk stripe colors (Blue Mackeral)

a proven color combo that glows underwater with the U.V. Pigments in the Skirts

 We have caught lot of fish on this Head shape/size & color and almost always have 2 out in the spread

Ahi, Mahi, Ono, Rainbow Runner, Shortbill spearfish, Sailfish and Blue and Black Marlin
Proven performer, there's a reason why Marlin magic Lures are so Popular

Available skirted & rigged or just head alone.

Rigging includes 15' of 300lb. Lindgren Pitman Mono Leader
All connections Double crimped with Double Barrel Sleeves

Available w/single 10/0 or 11/0 stiff rig w/5 layer glue filled heat shrink build up $20
or custom Back2Back Dual 10/0 Stiff Rig - When Ono/Ahi bite this hookset,
they usually get one hook in the upper jaw and one in the lower (see last pic)

w/5 layer glue filled heat shrink build up $22
which allows the lure to withstand dozens of strikes before you have to cut back and re-rig
which saves you time and money
and prevents your prized lures from being lost by the Toothy Gang.