Icom ic-M93D Floating Handheld VHF with GPS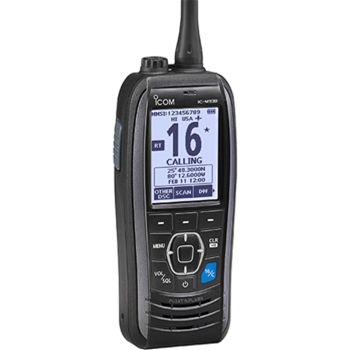 Icom ic-M93D Floating Handheld VHF with GPS
IC-M93D World's Slimmest HandHeld DSC 5W, Floating Handheld VHF with GPS
Built with the serious boater in mind, the Icom M93D floating handheld VHF with GPS offers class and ruggedness right in the palm of your hand. A powerhouse of communication and information, the M 93D will ensure your safety with an integrated GPS providing you with speed, bearing and location information right at your fingertips.
The stylish new design that Icom introduces with the IC-M93D Floating VHF, offers a sleek new keypad ensuring every click on the device is a successful one. A large LCD display will display your selections and channels even in bright, direct sunlight. Continuing with popular features demanded by boaters everywhere, the active noise cancelling, AquaQuake, and the float'n flash functionalities are passed along to this new and improved unit. Keep in mind, this handheld VHF floats also, so if by mistake the radio falls out of your hand and goes overboard, the strobe will start to flash and the radio will float until recovered.
Your M93D integrates an internal GNSS GPS receiver that ensures a 8 to 12 second GPS fix on your location which is critical for DSC calling or navigation to specific waypoints. This internal GPS receiver also provides speed, bearing, and location to provide ultimate accuracy by using WAAS and other signals. The Icom M93 D Floating VHF with GPS is the best solution for your marine handheld communication needs.
Each Icom M93D comes with: Icom M93D VHF, AC adapter, BC-123SA, Battery charger, BC-220, Battery pack, BP-285, Cigarette lighter cable, CP-25H, Belt clip, MB-133, Antenna, FA-SC59V, Hand strap and a Three-Year Warranty.
Size: 2.24"W x 5.69"H x 1.52"D
Icom M93D Special Features
5 Watt, Floating VHF Radio.
50 Waypoint Memory.
IPX7 Rating
Internal GPS for Position, Bearing and Speed
Simple to Operate with a Large LCD Display