Icom M73 PLUS 71 Handheld VHF, Plus Version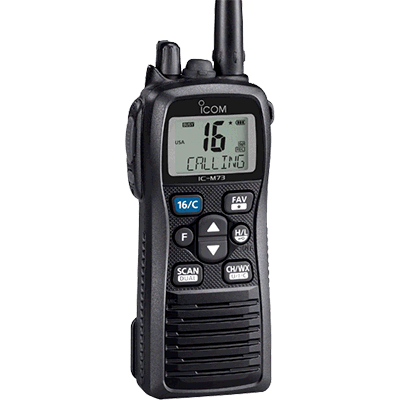 Icom M73 PLUS 71 Handheld VHF, Plus Version
Icom M73 PLUS 71

Handheld VHF, Plus Version

The IC-M73 has a stylish, ergonomic design. A durable and rugged body provides for user-friendly operation and long life. A wide viewing angle, high intensity LCD offers bright, easy to read characters. The IC-M73 continues to offer Icom's best waterproof protection. The radio has been tested to survive after being submersed in 1.5m (4.9ft) depth of water for 30 minutes.

The IC-M73 uses a BTL (bridge-tied load) amplifier that doubles the audio output. Its internal speaker delivers a loud 700mW audio output with clear sound. The IC-M73's 6 Watts of transmit power will provide extended communication range for the user. A large capacity Lithium-Ion battery allows for 16 hours of operation, under normal conditions.
Features:
AquaQuake water draining function
Dual/Tri-Watch function for monitoring Channel 16 and/or call channel
4 level battery indicator
Favorite channel and tag scan functions
Rapid desktop charger, BC-210, and cigarette lighter cable, CP-25H, are supplied
Optional waterproof speaker-microphones, HM-167 and HM-202
Auto power save function
Plus Version Features:
The built-in bidirectional active noise cancelling reduces background noise to up to 90% and improves both your transmitted voice and incoming call. You will hear better and clearer!
The signal processing technology emphasizes low-pitched sound to provide a rich bass sound for both transmit and receive signals.
The last call voice recording function automatically saves the last incoming call for 1 minute. You can also start recording manually. You will not miss an important call.

In the Box

IC-M73
Desktop charger w/ cigarette lighter adapter
Owner's manual