Icom M506 VHF Radio with AIS and NMEA 2000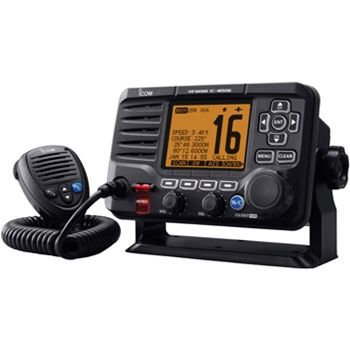 Icom M506 VHF Radio with AIS and NMEA 2000
Reliable Communication and Expanded Features!


The Icom M 506 21 Fixed Mount VHF with AIS Receiver and NMEA 2000 connectivity leads the way in the vhf marine radio market by offering more features than most other radios on the market. 
The IC-M 506 features the most Advanced Waterproof housing available from a VHF; IPX8. Designed and tested to survive after being submersed in 1m of water for 60 minutes. The "Last Call" voice recording function automatically saves the last two minutes of incoming calls so you are able to replay previously received calls in case you need to clarify an important incoming call that might have been missed. 
The IC-M506-21 features a built-in AIS receiver so you can keep tabs on AIS transmitting vessels in your area. See Vessel Name, Speed, Course and more either on the M506 display or on your compatible chart plotter. Interfacing with your chartplotter is even easier now with the M506-21 thanks to the NMEA 2000 interface connection. A simple plug and play system for newer marine electronics.
**NMEA 2000 Network required.
The IC-M506 also features Icom's "Active Noise Cancelling technology." Using its digital signal processor, the built in bi-directional noise cancelling feature improves audio quality both during transmission and receiving. This feature assures you are heard and you can hear when you really need to, such as when weather conditions are poor or if there is a lot of background noise. 
The new intuitive Icom user interface provides fast and intuitive operation to control its multiple functions. A high-definition dot matrix display allows all information such as GPS, DSC, AIS and radio menu's to be clearly viewed.
The option of a second station command mic is also available via the COMMAND MIC IV. Most features including AIS and DSC functions can be controlled from the COMMAND MIC IV. It can also be used as an intercom between the two. The Icom M506 provides 25W Two-Way Hailer capability. When connected to an external hailer horn, you can talk to people on the deck from the radio's microphone and can hear their reply via the hailer speaker.
Each Icom M506 comes with: 506 Fixed Mount Unit, Hand Microphone, DC power cable,                                                Mounting Bracket, Documentation and a 3 Year Warranty.
Dimensions: 7" W x 4.5" H x 4.1" D
Display Size: 3.5" Diag.
Icom M506 Special Features
2 Min "Last Call" Voice Recording.
Active Noise Cancelling.
Large Dot-Matrix Display.
25W Two-Way Hailer and Horn.
Command MIC IV Compatible.