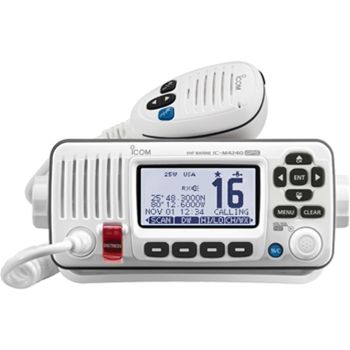 Icom IC-M424G
Icom has covered their bases going above and beyond with the IC-M424G VHF. It's the world's first; active noise cancelling, Class D DSC, fixed mount VHF. Never before has there been a more simple to use, intuitive interface on any VHF packed with so many features.
 The Icom M424G can be paired with an optional GPS receiver to show your current position and time on its display. Built with the end user in mind, the directional keypad provides you with simple menus making it easy to adjust the settings. The built in bidirectional active noise cancelling feature reduces the background noise by up to 90% not only improving your transmitting voice, but also the incoming call. With the built-in 10W amplifier, the 424 increases the audio output to an additional external speaker, the public address function allows you to make an announcement from the microphone like a loud speaker and FogHorn can also be emitted through an external speaker.The Icom IC-M424 VHF Marine Transceiver has risen above the standards in the VHF market and is leaving other VHF's behind. This marine radio is sure to make a slam dunk providing the user with an interface like no other.
Active noise cancelling
The built-in bidirectional active noise cancelling reduces background noise to up to 90% and improves both your transmitted voice and incoming call. You will hear better, be heard better.
Noise cancelling off
Noise cancelling on
10W Loud Audio, Public Address and Foghorn
The IC-M424 has a built-in 10W amplifier that increases the audio output from additional external speaker. The public address function allows you to make an announcement from the microphone like a loud speaker, and the foghorn can also be emitted from the additional external speaker.
Built-in Class D DSC
The built-in DSC watch function monitors Ch. 70 (DSC channel) activity, even while you are receiving another channel. DSC functions include: distress, individual, group, all ships, urgency, safety, position request/report, polling request and DSC test calls.
Learn how to register your DSC radio
New Optional COMMANDMIC IVTM HM-195B/SW
The new optional COMMANDMIC IV™ makes it convenient for using the IC-M424 from a separate cabin or tower. All functions of the IC-M424 can be controlled from the COMMANDMIC IV™.
Common GPS/NAV Interface
When connected to an external GPS receiver, current position and time are shown on the IC-M424's display. When receiving position information from another vessel, the IC-M424 can transfer it to a navigational device via NMEA 0183 connectivity.
MarineCommanderTM Compatible
When connected to the MarineCommander™, the received DSC message pops up on the multi-function display.
And more
MA-500TR AIS transponder compatible
AquaQuakeTM draining function
IPX7 submersible protection (1m depth for 30 minutes)
Weather channels with alert function
Dual/tri-watch function for monitoring Ch.16 and/or call channel
Priority and normal scan
Built-in attenuator for local communication
Black and super white versions available
Usable channels: INT, USA, CAN, WX channels

Output power: 25W, 1W (Hi/Low)

Supplied Accessories:

Hand microphone, HM-196B/SW
DC power cable
Mounting bracket kit