Helix 7 CHIRP G2 GPS/Chartplotter/FishFinder w/ Xdcr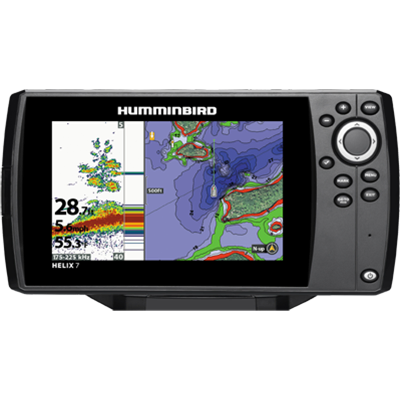 Helix 7 CHIRP G2 GPS/Chartplotter/FishFinder w/ Xdcr
Humminbird Helix 7 G2 CHIRP GPS/Plotter/FishFinder, 7" color LCD
w/ CHIRP 500 Watt Sonar.
Built-in GPS/Plotter with Uni-Map, Live Mapping, and Smart Strike.
Includes Transom Mount Transducer.
The HELIX 7 CHIRP GPS G2 with our new user interface and operating system, features a brilliant 800H x 480V, 7" 256 color display with backlight. CHIRP DualBeam PLUS sonar with 500 watts RMS power output, Precision Internal GPS Chartplotting with built-in UniMap cartography with a micro SD card slot for optional maps or for saving waypoints. Maximize your angling experience with the Humminbird HELIX 7 CHIRP GPS G2 fishfinder system.
Get unparalleled GPS technology out of the box. A powerful Precision GPS/WAAS receiver is built right in and provides fast position fixes accurate within 2.5 meters. The Humminbird UniMap is a built-in map covering the contiguous US coastline, inland lakes and rivers at 30 meters per pixel resolution. Additional Humminbird or Navionics maps can be added through the built-in Micro-SD card slot.
Building on our legacy of sonar innovation, exclusive Humminbird® SwitchFire™ Sonar puts anglers in complete command of how their sonar returns appear. With two unique display modes, you can adjust to your fishing conditions on the fly. Add or remove detail; account for water depth, temperature and turbulence; even experiment with lure presentations—all at the push of a button. SwitchFire adds a whole new dimension to 2D fish-finding. It's one more reason Humminbird is simply, clearly, better.
Dual Beam Sonar: Two beams combine for great detail and a wide coverage area. Use the narrow beam for high-accuracy returns and bottom. Use the wide beam when you want a larger search area.
Only Humminbird® lets you view low, mid and high CHIRP ranges, either individually or all at once. Dial in a specific kHz, search a defined range or cover the entire spectrum—it's up to you. Because it uses a broader range of frequencies, Humminbird CHIRP also delivers extreme target separation, lower noise and richer, higher-resolution images.
Create richly detailed maps of your favorite fishing spots in real-time with Humminbird®'s patent pending AutoChart® Live. Map the water as you drive the boat, with eight hours of built-in recording time. No added fees. No need to upload your data for the world to see. The future of digital charting has arrived.
Get advice the locals won't give you with a Humminbird® SmartStrike™ map card. Based on search parameters like season, time of day, temperature and fish species, SmartStrike highlights areas of the lake map where fish are most likely to be biting-before you even wet a line. No more guessing or wasted casting. Just fishing.