HELIX 10" M.F.D. w/ CHIRP 1000 Watt Sonar GPS/Plotter w/Transom Transducer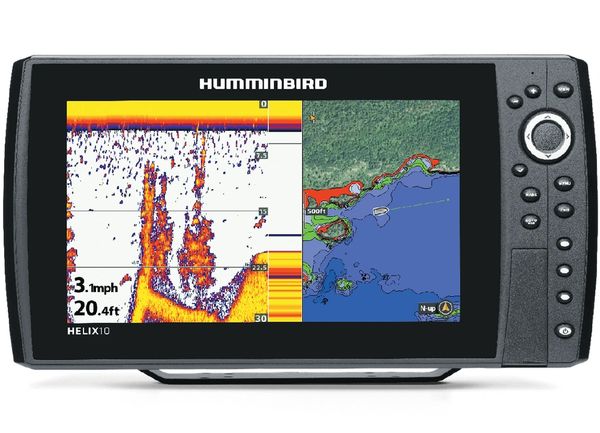 HELIX 10" M.F.D. w/ CHIRP 1000 Watt Sonar GPS/Plotter w/Transom Transducer
Humminbird HELIX 10 CHIRP GPS G2N. 10" Multi-Function Display w/ CHIRP 1000 Watt Sonar.
Built-in GPS/Plotter with Contour-XD Map, Live Mapping, Smart Strike, Ethernet, and Bluetooth.
Includes Transom Mount Transducer.
The Helix 10 CHIRP GPS G2N features a large 10" display with LED backlight and CHIRP-ing 2D sonar. Includes GPS chartplotting, built-in Bluetooth, Ethernet networking capabilities, and AutoChart Live with depth, vegetation and bottom hardness mapping.
Ethernet networking allows you to share data and transducers between multiple units. You can even add an optional AIS unit or CHIRP Pulse Compression radar.
The i-Pilot Link™ Integrated GPS Trolling System enables your Humminbird fishfinder and Minn Kota® trolling motor to communicate, delivering automatic boat control. From your Humminbird or the wireless remote, you can find, store and revisit your most productive fishing spots and tracks. With an AutoChart or Lakemaster map, you can follow any depth contour you choose, automatically, or cast to it from a set distance.
Tap into NMEA 2000® sensor data to monitor everything from fuel use to wind. From boat performance to weather and water conditions, make sense of it all with Humminbird NMEA 2000 Networking. Easily connect sensor after sensor to your vessel's Humminbird system. Bearing, depth, engine status, tank level, electrical—you name it, we can display it. Conserve valuable fuel, make informed decisions and see red flags with an at-a-glance view of all relevant information.
Bluetooth WiFi: Take wireless control of your Humminbird. Our all-new remote lets you mark waypoints on the fly, zoom in and out, adjust sonar sensitivity and toggle through your favorite custom views. Each key has a short press and long press function, enabling you to customize the remote's capabilities to reflect your fishing style. For instance, a long press of the Mark button can be programmed to power your unit on or off, deploy your 360 Imaging transducer or even create an i-Pilot Link Spot-Lock. Everything's visible and controllable from anywhere on the boat, so you don't have to stop fishing to control your Humminbird. The built-In browser allow you to surf the web, monitor weather and stay connected from the dock, offshore waters and in between.
Get unparalleled GPS technology out of the box. A powerful Precision GPS/WAAS receiver is built right in and provides fast position fixes accurate within 2.5 meters. Humminbird ContourXD is an enhanced, professional mapping package that comes with over 3,000 U.S. lake maps in the database. Additional Humminbird or Navionics maps can be added through the built-in Micro-SD card slot.
Building on our legacy of sonar innovation, exclusive Humminbird® SwitchFire™ Sonar puts anglers in complete command of how their sonar returns appear. With two unique display modes, you can adjust to your fishing conditions on the fly. Add or remove detail; account for water depth, temperature and turbulence; even experiment with lure presentations—all at the push of a button. SwitchFire adds a whole new dimension to 2D fish-finding. It's one more reason Humminbird is simply, clearly, better.
Dual Beam Sonar: Two beams combine for great detail and a wide coverage area. Use the narrow beam for high-accuracy returns and bottom. Use the wide beam when you want a larger search area.
Only Humminbird® lets you view low, mid and high CHIRP ranges, either individually or all at once. Dial in a specific kHz, search a defined range or cover the entire spectrum—it's up to you. Because it uses a broader range of frequencies, Humminbird CHIRP also delivers extreme target separation, lower noise and richer, higher-resolution images.
Create richly detailed maps of your favorite fishing spots in real-time with Humminbird®'s patent pending AutoChart® Live. Map the water as you drive the boat, with eight hours of built-in recording time. You can also map vegetation and bottom hardness. No added fees. No need to upload your data for the world to see. The future of digital charting has arrived.
Get advice the locals won't give you with a Humminbird® SmartStrike™ map card. Based on search parameters like season, time of day, temperature and fish species, SmartStrike highlights areas of the lake map where fish are most likely to be biting-before you even wet a line. No more guessing or wasted casting. Just fishing.
Available 360° Imaging (optional transducer required): Revolutionary Humminbird® 360 Imaging™ offers a detailed, 360 degree view around your boat. Visualize it as a thin sonar wall extending 150 feet to either side of your vessel. This wall rotates to create a 300-foot circle enabling you to see areas virtually impossible to reach with other types of sonar. And, because the sonar wall moves, you don't have to, so you can see where fish are, before they see you.