Blue Top Polu Kai Heavy 9" Bullet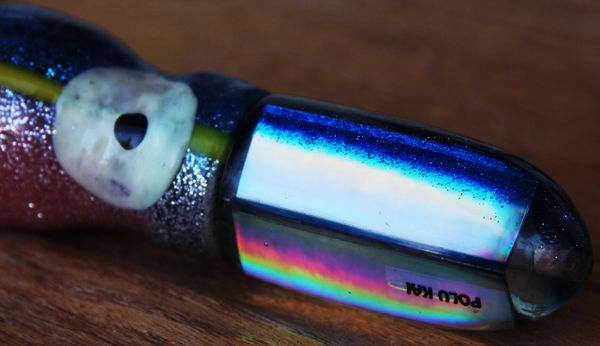 Blue Top Polu Kai Heavy 9" Bullet
Used Polu Kai Dark Blue Top Heavy 9" Bullet- Only 1 Left !

Head is in Like New Condition, No Chips or Cracks
Dark Blue w/multi colored flakes top pour, then followed by yellow and clear Bottom
Inserts put out a bright Flash of Multiple colors when the sun hits it.
Really stands out.

Comes double skirted as shown, skirts are used but usable.
We have caught lot of fish on this lure
Ahi, Mahi, Ono, Rainbow Runner, spearfish, and Blue and Black Marlin
Proven performer
Available rigged for $20 or Un-rigged
Rigging includes 15' of 300lb. Lindgren Pitman Mono Leader
All connections Double crimped
Available in single 10/0 stiff rig w/5 layer glue filled heat shrink build up
or our exclusive Back2Back 9/0 stiff rig w/5 layer glue filled heat shrink build up