GP1971F 9" Chartplotter/G.P.S./FishFinder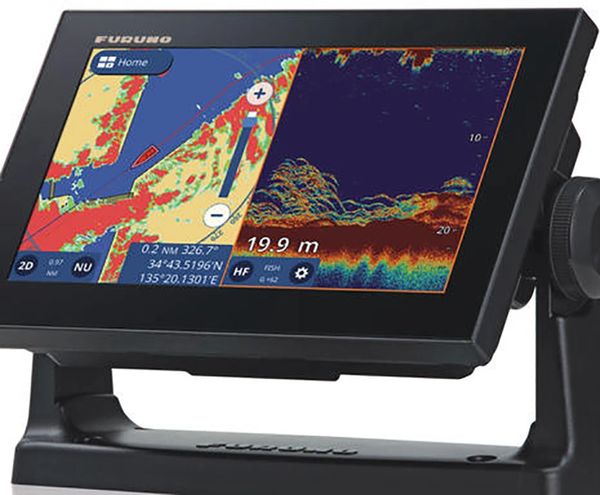 GP1971F 9" Chartplotter/G.P.S./FishFinder
Furuno GP1971F 9" Touch-Screen GPS with CHIRP Sonar
Giving new meaning
to the term "multi-function powerhouse", the Furuno GP-1971F brings sophistication and powerful technology to the table. A compact, 9" color, multi-touch interfaced display beautifully shows mapping and sonar images even in direct sunlight. New slide out menu technology contains detailed information right at your fingertips, any time you need it. Full customization of your map or sonar display allows you to only see the information you need, when you want it. No more wasted space with being bombarded with useless information.
Ease of use like no other MFD, the Furuno GP-1971F offers finger gestures that allow any user to use single or two finger touches on the display to zoom in or out, double-tap to screenshot whatever image is currently on the display or go to a full screen mode when needed quickly. When taking a screenshot of an image on your display, you can save the image you desire to a blank SD card to review later or share with friends.
The built-in GPS receiver will keep you on track no matter where you're boating adventures take you. Add the C-MAP 4D chart to your GP-1971F, and receive detailed and precise mapping data such as marine plans, relief vectors, tidal streams, and more keeping your situational awareness at its highest. Safety is key while on the water and C-MAP keeps that in mind with the ability for every GP-1971F owner to download C-Weather information which will provide you with important data such as wind, wave heights, weather, and humidity information.
As an added bonus, this Furuno MFD can connect to the NavPilot 300 and NavPilot 711C via the CAN bus network and offer full control of your autopilot directly from your plotter*.(*coming soon with a software update) Along with the autopilot control ability, your 1971F, when connected to an AIS receiver can display AIS data and provide you with vessel information right on the MFD display. Now radar compatible, the GP1971F is connectable to the DRS4W 1st Watch Wireless Radar insuring accuracy and safety.
A built-in CHIRP 1,000 Watt FishFinder with True-Echo CHIRP technology offers unsurpassed bottom images of contours and helps distinguish schools of fish. Fish markings are clearer than ever with the True-Echo CHIRP technology and will individually mark game fish and bait fish and works closely with the AccuFish technology to assess fish sizes to help you hook a big one. As if the sonar technology described above isn't enough, it does get better. Bottom Discrimination along with RezBoost will work hand in hand to show you bottom composition such as rock, gravel, sand, and more and will ensure you get the highest resolution of bottom possible. For the ultimate multi-function display, the Furuno GP-1971F is a top choice for all of your sonar and navigational needs!
F.Y.I. - These Furuno units can output either a single channel chirp (TM185M)
or Dual Channel Traditional 50/200 (TM258,TM260, B260)
So if you want to cover the whole water column, use a dual channel traditional
But please call us if you have any questions before you order.
We want to make sure you get the right unit the First Time.

808-345-5415

Transducers - These Models are for the GP1971
600 Watt Transducers:
1,000 Watt Transducers
Tm258 1kW Transom Mount Traditional 50/200 Transducer $641

Tm260 1kW Transom Mount Traditional 50/200 Transducer $840.75
B260 1kW Bronze Thru-Hull $985
M260 1kW Shoot Thru Hull $850.00
TM185M 1kw Single Channel Chirp Transom Mount Transducer $759.95