GP1871F 7" Chartplotter/G.P.S./FishFinder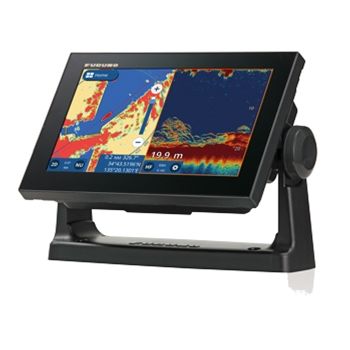 GP1871F 7" Chartplotter/G.P.S./FishFinder
7" Touch-Screen Combination Unit with CHIRP Sonar





Powerful and Compact! Furuno's GP1871F combines a simple to use 7" touchscreen with a abundance of high end features normally found in much more expensively priced units.
At first glance, you will notice the large sunlight viewable WVGA display. With a simplified interface including slide out menus, the 1871 provides simple access to all your most favored features. Customizable to fit your needs - Everything you need or want is truly a touch away! The built in GPS antenna quickly and accurately locks into position and shows your boat moving fluidly onscreen. Choose from an extensive C-MAP 4D chart library for detailed data including relief vectors, tidal streams, marine plans and much more.
A TruEcho 600/1,000 Watt User Select-able Output CHIRP Sonar along with ACCU-Fish and Bottom Discrimination come standard in the GP1871 and will provide unmatched sonar capability when paired with the proper transducer. TruEcho CHIRP helps in distinguishing and identifying individual game fish and bait fish even when close together. ACCU-Fish processing combines high and low frequencies and can simply and clearly assist in determining fish size from 4" - 6' and can start as low as 7' of water to over 300' of water. ACCU-Fish also includes icons that can be customized according to size and depth of targeted fish. It doesn't stop there though, the GP1871 also includes Bottom Discrimination which can distinguish and provide a graphical display of the seafloor whether it be mud, sand, gravel or rock!
Pair your GP1871-F with Furuno's DRS4W 1st Watch Wireless radar for enhanced safety during navigation. Eliminating messy cables, the DRS4W wirelessly connects to your combo unit, has range scales of 0.125 to 24nm and provides situational awareness no matter the weather. As an added bonus, this Furuno MFD can connect to the NavPilot 300 and NavPilot 711C via the CAN bus network and offer full control of your autopilot directly from your plotter*.(*coming soon with a software update)
Furuno GP1871F Comes with:
GP1871F
Grey Bezel Cover
Mounting Bracket and 2 Knobs
Installation Manual
Operators Guide
Self-Tapping Screws
Cleaning Cloth
Cutout Template with Flush Mount Gasket and Kit
Two Year Warranty
Size - Bracket Mounting with Knobs: 8.5"W x 6"H x 3.3"D
Transducers:
600 Watt Transducers:
1,000 Watt Transducers:
Transom Mount Traditional 50/200 - TM258 -
Tm258 1kW Transom Mount Transducer
$641
Transom Mount Traditional 50/200 - TM260 - Tm260 1kW Transom Mount Transducer $840.75
Bronze Thru Hull Traditional 50/200 - B260 1kW Bronze Thru-Hull $985
TM185M 1kw Chirp Transom Mount Transducer $759.95