Garmin STRIKER 7cv Fishfinder with CHIRP Transducer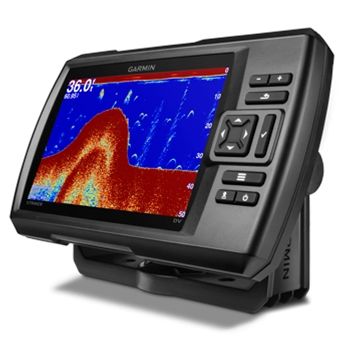 Garmin STRIKER 7cv Fishfinder with CHIRP Transducer
Rugged Fishfinder with CHIRP Sonar and CHIRP ClearVu

CHIRP Sonar with CHIRP ClearVu. Garmin's Striker 7cv is a 7" Fishfinder designed with simplicity in mind.
At first glance the large color display catches your eye and makes viewing on screen targets a breeze but its what's behind the display that really counts. Built with CHIRP Sonar and CHIRP ClearVu the striker7 is paired with Garmin's 77/200kHz/ClearVu Transom Mount transducer for exceptional photo-like clarity and detail of fish and structure up to 750 feet below your boat. Traditional Sonar will reach depths of 2,300 feet in freshwater and 1,100 feet in saltwater (depths listed are maximum depths and will vary depending on water clarity and conditions) Unlike previous transducers, the 77/200kHz with CHIRP sends out a continous sweep of frequencies providing more enhanced target separation than ever before. Plus, the Striker is compatible with Garmin's GT22 or GT23 Transducers for even greater performance in deeper depths.
A High-Sensitivity GPS will allow you locate and mark your current position, along with marking points such as docks, boat ramps and more. However detailed mapping is not included and cannot be added, this feature simply enables you to view your position in relation to marked spots and even make returning to them at a later date easier. The Internal GPS will also provide speed over ground right to your STRIKER's display.
A built-in flasher helps determine the bottom composition - if its solid or muddy and even the depth of fish as they swim into the sonar beam. With all these high end features, the Striker 7cv is sure not to disappoint and is a top contender in affordable fishfinders.
The Garmin STRIKER 7cv replaces the STRIKER 7dv
Each Garmin STRIKER 7cv comes with:Garmin STRIKER 7cv, 77/200kHZ/ClearVu transducer, Transom and trolling motor mounts, Power cable, Tilt mount, Documentation and a One-Year Warranty.
Size:9.3"W x 5.5"H x 2.3"D