Garmin STRIKER 5cv Fishfinder with CHIRP Transducer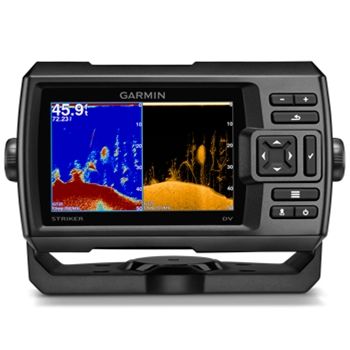 Garmin STRIKER 5cv Fishfinder with CHIRP Transducer
5" Color Fishfinder with CHIRP Sonar and CHIRP ClearVu



The Striker 5cv fishfinder is a great solution for the serious fisherman. Rugged and waterproof, the Striker 5 cv is ready to go to work and withstand the elements. A high sensitivity internal GPS allows you to mark waypoints and get from one point to another. Although you cannot add detailed mapping to this unit, you can still locate and save boat ramps, docks, favorite hot spots, etc. A 5 inch color display makes it very easy to see bottom views and all of the waypoints you have marked.
Included with every Striker 5cv is a 77/200/ClearVu Transom Mount transducer that offers technology which provides better bottom imaging and target separation. CHIRP transducers like the one included with your Striker 5cv, send down continuous sweeps of frequencies so you are sure to have the best bottom views. If you need to change depths or frequency read outs on the Striker, the smooth scaling feature will kick in and give you an uninterrupted image on your display so you won't lose the image on the screen. The sonar history rewind feature is also great to scroll back through sonar images and go back and mark waypoints you may have originally missed.
Unsure of your trolling speed or want to be sure you are in the proper speed range for wake zones? The Striker 5cv will provide you with on screen speed over ground so you can keep track of everything right on your display along with all of your depth and waypoint information. A built in flasher will provide you with information on whether or not the bottom where you are fishing is solid or muddy and will also provide you with the depth at which the fish are at as they move into your sonar beam. Depth ranges are 2,300 feet in freshwater and 1,100 feet in saltwater so you can utilize this Striker in both aspects of fishing. Make the Striker 5cv your option for a compact unit to fulfill your fishfinding needs.
*The Garmin STRIKER 5cv replaces the STRIKER 5dv
Each Garmin STRIKER 5cv comes with:STRIKER 5cv, 77/200kHz ClearVu transducer, Transom and trolling motor mounts, Tilt/swivel mount, Power cable, Documentation and a One-Year Warranty.
Size:7.4"W x 4.5"H x 2.1"D