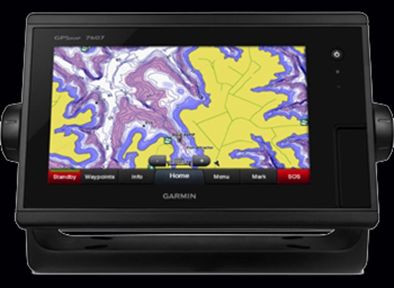 Garmin GPSMAP 7607
Fully Networkable Chartplotter with WiFi!





The GPSMAP 7607 is a versatile and expandable chartplotter, that could be your solution whether a sail boat captain, sport fishermen, or weekend cruiser.
Available in 2 Versions: 1. 7607 - Sounder Not Included.
                                      2. 7607 XSV - With Internal 1 kW Sounder

Designed for use in virtually any situation, the GPSMAP 7607 is a 7" multi-touch widescreen display for easy operation and extremely clear viewing. Whether you are in fresh or salt water the GPSMAP 7607 should be considered because it comes with both Garmin's BlueChart G2 for coastal waters and LakeVu HD maps for inland lake and river navigation in the U.S. and will also run Garmin's G2 Vision Charts which add a whole new level to your chart appearance.
A high sensitivity internal GPS/GLONASS 10 Hz receiver updates your position information 10 times per second which makes your movement on the screen of the 7607 chartplotter more fluid. Being fully network capable both Garmin Marine Network and NMEA 2000, the 7607 chartplotter can be used to share data from other GPSMAP units and supports radar, autopilot, instruments, multiple screens, FUSION-Link, sensors, remote sonar modules, digital switching, thermal cameras, both GSD, GCV sonar modules and GMR radar modules are compatible with the GPSMAP 7607.
Adding to the capability of the GPSMAP 7400, 7600, and 8000 series these plotters can control and stream video from the VIRB X/XE camera. You can now connect up to 5 VIRB X/XE cameras at one time. The screen of the chartplotter can be split to view up to four of the cameras at once, while each camera can be named for easy identification. Not only can you stream video but you actually gain control of each camera and its functions. G-Metrix data can be sent through a NMEA 2000 network and overlaid on the screen using the VIRB X/XE camera. Record video or take snapshots using your VIRB X/XE and with the Garmin Helm App you can save, share and view on the screen of your marine device.
The ability to interface with Garmin's GND 10 Black Box, Nexus Instruments and sensors provides the serious or weekend sailor with options to use gWind, gWind Wireless, and gWind Race transducers. The GPSMAP 7607 also offers the sailboat captain sailing features like: laylines, enhanced wind rose, heading, course-over-ground lines, true wind data fields and tide/current/time slider. Many mariners will also be happy to hear that with the built-in Wi-Fi/ANT and an App like Garmin Helm you are able to use your Apple iPhone, iPad to control the GPSMAP 7607 and with the BlueChart Mobile App you can plan your trip once again using your Apple iPhone or iPad and then download it to the GPSMAP 7607.
The November, 2017 Garmin Marine Software Update has added several advanced features.Enjoy Chart and Weather Layers Simplification with the new Layers menu. Now you can easily see which layers are enabled, while the Menu remains as a sidebar on your screen. This makes switching between layers and adding multiple layers quick and intuitive. New 'On Screen Controls' also allow for improved ease of use. No more searching for the controls for commonly adjusted items as they will now remain present on the screen. Create 'Smart Boundaries' and assign them with appropriate SmartModes. Your display will now switch to the appropriate screen when entering a Smart Boundary. Entering a docking area? Designate it at as a boundary and your screen will instantly switch to a Docking screen as soon as your vessel enters the territory you assigned. FLIR Camera Support is another new and exciting feature enabled with the November software update. All next generation M-series models and new digital models are now supported with continuous zoom support and gyro stabilization control. Need to give your MFD a rest? Expanded Sleep Mode will enable the user to turn off the backlight and sonar transmissions and can also place a networked autopilot into standby. This feature will not work if a networked unit is requiring sonar from that unit. As you can see, Garmin is continually developing new ways to support and improve their existing product line. Software updates are quick, simple and free of charge.
Whether you are looking for a second display to add to your network, or a chartplotter to start your Garmin marine network system the GPSMAP 7607 is certainly an option to consider.
Each GPSMAP 7607 comes with:GPSMAP 7607, Power/data cable, NMEA 2000® drop cable, T-connector, Bail mount with knobs, Flush mount kit, Protective cover, Grommet, Documentation and a Two-Year Warranty.
Size: 8.74"W x 5.6"H x 2.6"D
Display Size: 7" Diag.
Transducer Required and Sold Separately. Call us to select proper Transducer. 808-345-5415

Garmin GPSMAP 7607 Special Features
7-inch multi-touch widescreen display
Advanced sailing and sail racing features
Preloaded with Garmin Bluechart G2 and LakeVu HD
High-sensitivity internal 10 Hz GPS/GLONASS
FLIR Camera Compatibility