Garmin GPSMAP 741xs Touch Screen GPS Sounder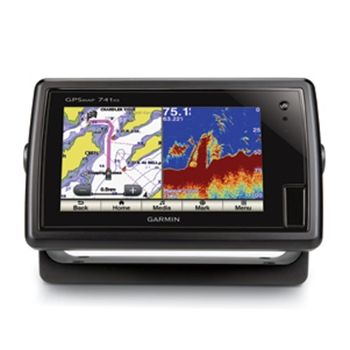 Garmin GPSMAP 741xs Touch Screen GPS Sounder
Garmin's first Chartplotter / Sounder with built in Chirp Technology



Garmin's GPSMAP 741xs takes all the features you have come to love in the previous 700 series chartplotters and added 60% more processing power, a high sensitivity 10Hz GPS/GLONASS Receiver and a HD-ID 1kW Sonar with 600W CHIRP capabilities.
 Charting

The Garmin GPSMAP 741xs is a 7" touchscreen powerhouse. With pinch to zoom technology and preloaded with both Garmin Bluechart G2 charts for the coastal waters as well as the U.S. Lakes, detailed information such as depth contours, spot soundings, navaids and buoys is right at your fingertips. However, if that's not enough the 741 xs offers dual microSD card slots to accept Garmin's G2 Vision charts for expanded detail and information such as high resolution satellite imagery, aerial photos, auto guidance, 3D view above and below the water lines and more.
 Sounder

Built into the 741xs is a 1kW HD-ID sounder with CHIRP technology. HD- ID with target tracking  and CHIRP technologies provide better definition and separation of images as well as sweeping multiple frequencies (CHIRP technology) to better focus on certain fish at certain depths (CHIRP transducer required and sold separately) add to that, sonar recording, which will record the timing of the sonar return along with your boats position and will save depth and position information. Great for scrolling back and reviewing sonar returns and creating waypoints. The 741xs can read depths of up to 2,000 feet providing you with a much clearer representation of what's below the boat. The 741xs can also provide DownVu Sonar with the purchase of a DownVu Transducer (Software Update May Be Required).
 GCV 10 DownVu and SideVu Sounder

Get crystal clear images below and to the sides of your boat. It works by sending a continuous sweep of frequencies ranging from low to high that are interpreted individually upon return versus one frequency sent by standard sonars. The result is an unsurpassed, ultra-clear and high-resolution image. Utilizing a 12-pin DownVu/SideVu transducer (20 ft. cable) with a fast temperature sensor, enhanced target separation, a transmit frequency of 455/800kHz and a transmit power of 500 W per element, no fish are safe. Maximum depths include 750 ft. with DownVu and 500 ft. left and right with the SideVu feature.  The GCV 10 also has the ability to expand with 3 network ports provided for advanced networking for multiple units.
 Radar

The 741xs is also compatible with Garmin's GMR series radars and has a dedicated radar port for simple installation. The Garmin GMR radars provide accurate targeting which would then be viewable either in split screen, full screen or overlaid on the chartplotter in 2D or 3D modes.
 Wireless Connectivity

Wirelessly connect to your smartphone or tablet. With the Garmin Bluechart marine app you can create waypoints, pre plan routes and more, then wirelessly transfer the information to your plotter from your smartphone or tablet. No more waiting until you're out on the water to plan your route, do it all before you leave home plus once underway the mobile app will allow your smartphone or tablet to follow the boat, showing your position and progress right on the screen. With Garmin's Helm you can view and control the 741xs with your Apple iPhone, iPad or Android v4.03 or later.
 Fusion Media System Compatible

New to the 741xs is the ability to control a compatible Fusion Marine Stereo right on your chartplotter. The Large on screen buttons on the 741xs gives you quick access to volume, tracks and more. Change the volume with the touch and slide control, change zones and even control volume in each zone right on the screen of your 741xs.
 The 741xs is the perfect affordable addition to your marine electronic setup. Waterproof to IPX7 standards.

Each Garmin GPSMAP 741xs comes with: 741xs unit, Power/data Cable, Bail Mount and Knobs, Flush Mount Kit, Protective cover, user documentation and a two year Warranty. (Transducer Required and Sold Seperately)
Condition: Brand New
Unit Size: 9.0"W x 5.6"H x 2.4"D
Display Size: 7" Diag.