Garmin echoMAP CHIRP 93sv with ClearVu/SideVu Transducer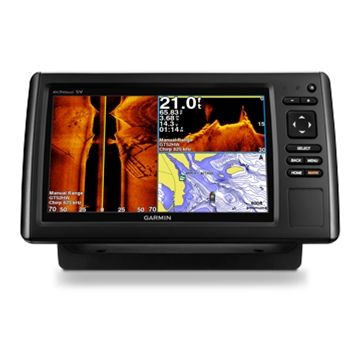 Garmin echoMAP CHIRP 93sv with ClearVu/SideVu Transducer
Sunlight Viewable, 9" Display with Preloaded Inland Lake Charts!




The echoMap CHIRP 93sv with transducer combination chartplotter fishfinder brings CHIRP fishfinding technology to an affordable price point for those looking for high-quality fishfinder capabilities without breaking the bank.
Pre-loaded with LakeVu HD, the echomap CHIRP 93 has coverage for over 17,000 U.S. Lakes, rivers and reservoirs of which over 13,000 of these bodies of water have 1 foot contours. With its 9" color display with keypad control the echoMap CHIRP 93sv with transom mount transducer is extremely easy to use and even the novice mariner or fisherman will have no problems using it.
With Built in ClearVu and SideVu the 93sv displays a picture like images of what is below or to the side of your boat on the screen with the included CV52HW-TM transducer. Quickdraw contours is a high end feature the echoMap CHIRP 93sv brings to the table permitting you to create your own HD charts with one foot contours and use them immediately. Also capable of supporting Garmin's Panoptix LiveVu forward facing sonar by adding the optional Panoptix PS21 transducer, your echomap could show you baitfish swimming, your actual lure falling or the movement as you retrieve it.
Mounting of a separate GPS antenna is not required in most installations as the echoMap CHIRP 93sv with transducer has a fast responding 5 Hz. GPS/GLONASS internal receiver that will read your position in most spaces and update 5x per second. A sometimes overlooked feature that is present in the echoMap CHIRP 93sv is its ability to provide you with Auto Guided Routes when used with Garmin's premium charting software like G2 Vision charts for coastal waters and LakeVu HD Ultra for freshwater.
Perfect for you freshwater bass fishermen the echoMap CHIRP 93sv comes packaged with the 52HW-TM transducer that will provide 250 watts CHIRP and CHIRP ClearVu/SideVü 455/800 and 500 W of power and offers the quick-disconnect feature for safe keeping when your day on the water is done.
Each Garmin echoMAP CHIRP 93sv comes with: Garmin echoMAp CHIRP 93sv, Power/data cable, Tilt mount, Quick-release cradle, Protective cover, Flush mount kit, High-Wide CHIRP ClearVu/SideVu Transducer(12-pin) with Temp and 20' Cable, Transom mount,Trolling Motor Mount, Hardware, Documentation and a One-Year Warranty.
Size:11.3"W x 6.4"H x 2.0"D