Garmin EchoMAP 74sv CHIRP, Offshore G3 Charts w/o Transducer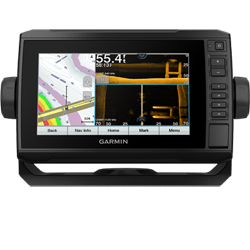 Garmin EchoMAP 74sv CHIRP, Offshore G3 Charts w/o Transducer
7" Garmin EchoMAP 74sv CHIRP, Offshore G3 Charts w/o Transducer





Garmin's echoMAP CHIRP 74sv is a top choice GPS/Fishfinder combining CHIRP Sonar with ClearVu and SideVu scanning sonar. Built with a 5Hz GPS recevier, the echoMAP CHIRP provides fast and accurate positioning.
*Please note this unit does not come with a transducer, if you need help selecting the right transducer,

just give us a call at 808-345-5415

Detailed Mapping
Preloaded with detailed Coastal Charting for the US, the echoMAP 74 sv includes coverage for the East Coast, West Coast, Gulf of Mexico and U.S. side of the Great Lakes - detail includes NOAA charting, tidal stations, depth contours, IALA symbols and included fishing charts. The echoMap 74sv also includes a single microSD card slot for added or enhanced mapping, choose from Garmin LakeVu HD, LakeVuHD Ultra or Bluechart G2 Vision. With the addition of a G2 Vision chart you will receive satellite imagery, 3D views above and below the water line aven auto guidance technology, creating a safe route for navigation based on your boats specs.
Sonar
Chirp Sonar, ClearVu and SideVu. The echoMAP CHIRP offers it all! When paired with a compatible transducer, the 74sv has the capabilites to provide single frequency CHIRP sonar reaching depths of 2,300 ft @ 77 kHz freshwater and 1,100 ft @ 77 kHz saltwater*, CHIRP ClearVu and CHIRP SideVu provide near photo-like images of structure, fish and submerged objects below and to the left and right of your boat. (Maximum depths include 750 ft. with ClearVu and 500 ft. left and right with the SideVu feature*) *depths may vary based on water clarity and conditions. The echoMAP 74sv CHIRP also includes QuickDraw Contour Software enabling the fisherman to instantly create custom HD Fishing charts with 1' contours when paired with a compatible transducer.
NMEA2000 and Panoptix
NMEA2000 Compatible, the echoMAP CHIRP allows for NMEA2000 components to be connected and numerical data shared with other NMEA2000 devices, also Panoptix LiveVu PS21 compatible the 74sv can be connected to the Garmin PS21 Forward facing transducer - when the "all seeing sonar" transducer is added you can see live images of what is happening under the water. Watch Fish swimming and reacting to your bait, watch your lure as it sinks and even as you retrieve it - with LiveVu Forward you can watch all this occur up to 100' from your boat.
Garmin has long been known for ease of use and the echoMAP CHIRP series of combination GPS/Fishfinders is no exception. Simple to operate and install, the 74sv is a must have for the coastal fisherman looking for quality marine electronics at an affordable price point.
Each Garmin echoMAP CHIRP 74sv comes with:echoMAP CHIRP 74sv with U.S. BlueChart® g2, Power/data cable, Tilt mount, Quick-release cradle, Protective cover, Flush mount kit, Hardware Documentation and a One-Year Warranty.
Size:9.8"W x 5.5"H x 2"D
Garmin echoMAP CHIRP 74sv Special Features
QuickDraw Software for creating HD Fishing Charts
Preloaded Bluechart G2 for Coastal Waters
Single microSD Card slot for added mapping
CHIRP ClearVu and CHIRP SideVu
Internal 5Hz GPS Recevier