Garmin EchoMap 94Sv With Transom Mount Transducer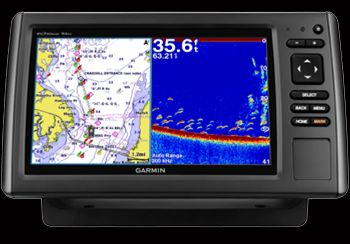 Garmin EchoMap 94Sv With Transom Mount Transducer
Garmin EchoMap 94Sv 9" G.P.S./Chartplotter/Fishfinder
with Built-In Sonar for DownVu and SideVu Scanning
Garmin echoMap 94sv Chartplotter/Fishfinder Comes with Transom Mount Transducer.

This combination unit is a perfect option for anyone looking for a single station setup. A bright 9" Sunlight Viewable display with keypad control and 5Hz GPS/GLONASS receiver provides accurate position and shows your vessel moving fluidly onscreen with position updates 5x per second. Preloaded Coastal Mapping for the U.S., Bahamas and U.S Side of the great lakes is sure to get you to the hottest fishing spot safely with safety shading allowing you to contour shade any and all depths shallower that your determined safe depth. Add to that tidal stations, currents and IALA symbols the 94sv is ready for a day on the open water. A Single microSD card slot enables the 94sv to add additional mapping such as LakeVu HD or LakeVu HD Ultra or add enhanced data from Garmin's complete line of G2 Vision charts. Garmin g2 Vision charts give you the following:
High-resolution satellite imagery when overlaid on the chart, will provide the mariner with unparalleled situational awareness
Aerial reference photography provides "real world" photos of ports, harbors, marinas, waterways, navigation landmarks and other points of interest, offering the mariner another powerful tool for navigating unfamiliar waters
Mariner's Eye view – Provides the mariner with a 3-D perspective of chart information for a quick, reliable and easy position fix
Fish Eye view – 3D perspective below the water line for displaying bottom contours based on bathymetric charting data
Auto guidance technology will search the attributes of all relevant charts to suggest the best course for navigation
Fishing(bathymetric) charts, tides, currents, marine services, coastal roads and points of interest detail
.
A built-in 500W HD-ID Sonar with DownVu and SideVu scanning, the echoMap 94sv offers multiple ways to view what's below your boat. A combined all in one HD-ID /DownVu/SideVu Transom Mount Transducer is included. Traditional HD-ID Sonar reaches depths of 2,300 ft @ 77 kHz, freshwater and 1,100 ft @ 77 kHz, saltwater dependent on water clarity and conditions while DownVu and SideVu scanning provides photo-like images of structure, fish and other submerged objects up to 750 feet below and 500 feet left to right of your boat. Add to that sonar recording; coordinating the timing of your sonar return with your position and saving that information for your review at a later time with Garmin's free downloadable Homeport software the 94sv is an all-around powerhouse. Homeport also adds the ability to mark waypoints and create routes from your home computer and transfer them to your chartplotter via a microSD card.
At the end of a fun day on the water the echoMap 94 offers a simple storage solution. With the cords plugging directly into the mount the display can be removed quickly and easily for safe keeping. No more messy complicated wires to deal with – just disconnect, store and you're on your way. With all these features the 94sv is sure to be a top choice among boaters and fisherman.