Garmin EchoMap 44dv With Dual Beam Transducer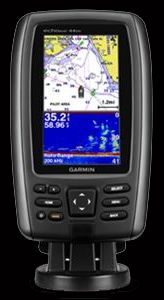 Garmin EchoMap 44dv With Dual Beam Transducer
G.P.S./Chartplotter/FishFinder
Comes with 50/200 Transom Mount Transducer
, with Crisp, Clear, photo-like Underwater Images
A bright colored, high performance GPS/Fishfinder. Garmin's 4.3" echoMap 44dv is a top choice combination unit when space is limited.

The echoMap 44dv comes preloaded with Garmin's famed Bluechart mapping for detailed coverage of the entire U.S Coast, Gulf of Mexico, U.S side of the Great Lakes as well as the Bahamas. Plus, a single microSD card slot enables you to add or enhance your mapping. Choose from Garmin LakeVu HD, LakeVu HD Ultra or Bluechart G2 Vision and add features such as Auto Guidance*, 3D views above and below the water line*, high resolutions satellite imagery* and more. (*Dependant on which mapping is added) See your boat moving fluidly on top of the pre-loaded charting with the built in 5 Hz GPS/Glonass receiver for position updating 5x per second. Mark waypoints and find your previously saved spots quickly and easily!
See Structure and Fish like never before. With a built in 500W HD-ID Sonar and DownVu Scanning, traditional sonar can reach depths of 2,300 feet in freshwater and 1,100 feet in saltwater dependant on water clarity and conditions while DownVu scanning provides nearly photograpic images down to 750 feet. A single, all-in-one HD-ID / DownVu 50/200 kHz transom mount transducer is included and also includes a sonar-recording capability that coordinates sonar returns with your boat's position and saves the imformation for playback at a later time using Garmin's Homeport software (a free download available at Garmin.com) Homeport also allows you set up and mark waypoints, routes and tracks and transfer to your unit via SD Card.
Easy to operate and now even easier to keep safe and secure! With power cords that now plug directly into your mount, removing the 44DV for storage is simpler than ever before. Disconnect from the mount, store and go - it really is that easy. Low price, compact, easy to operate and easy to store. The Garmin echoMap 44dv is a great option for any angler.