Garmin EchoMap 44cv+, US Offshore g3, GT20 Xdcr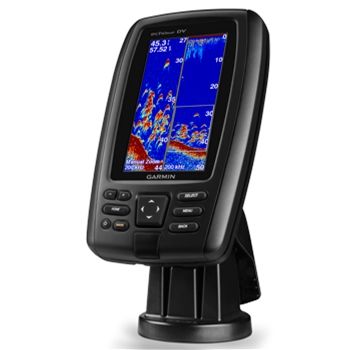 Garmin EchoMap 44cv+, US Offshore g3, GT20 Xdcr
Garmin EchoMap+ 44cv, US Offshore g3, GT20 Transdcuer

Preloaded Coastal Charting and CHIRP Sonar on a 4" Color Display




See Fish like never before! Garmin's echoMAP CHIRP 44 cv is a compact combination GPS/Fishfinder with CHIRP Sonar and CHIRP ClearVu. Packaged with Garmin's Mid Band CHIRP/CHIRP ClearVu Transom Mount transducer offering Traditional 500W (77/200kHz) and 500W (455/800kHz) ClearVu producing near photolike images below your boat to depths of 750ft* and traditional sonar images to 2,300ft* @ 77 kHz, freshwater and 1,100ft* @ 77 kHz saltwater
A bright, 4.3" color display with internal 5Hz GPS receiver will quickly and accurately show your boats postion on the preloaded Garmin BlueChart G2 mapping covering the coastal US and US Portions of the Great Lakes. Detailed mapping includes tidal stations, currents, depth contours, IALA symbols, fishing charts and allows customizing with shallow water shading, ensuring safe depth navigation and can be even further enhanced thru the microSD card slot with Garmin's Bluechart G2 Vision adding high resolution satellite imagery, 3D views above and below the water line and even exclusive Garmin Auto Guidance technology which based on your boats specs - Auto Guidance creates a path providing safe navigation adn avoiding shallow water and charted obstructions.
Included Quickdraw Contour Software in the echoMAP CHIRP units enables you to be sure to have the most detailed fishing charts on the water. With Quick-draw you create your own personalized HD Fishing Maps with 1' contours. Add detail where there may not be any or improve any of the compatible mapping. Compatible with Garmin traditional transducers, CHIRP-enabled transducer or Garmin ClearVu transducer the echoMAP CHIRP will select the most capable sonar device and create maps based off the information the transducer provides
Mark Waypoints, Create Routes and even share that information with other compatible echoMAP and STRIKER units wtih the User Data Sharing Cable. The echoMAP CHIRP 44 cv is simple to operate and even simpler to store away for safe keeping when your day on the water is done. The included quick-release mount has the cables plug directly into the mount providing a quick and easy install and removal.
The Garmin echoMAP CHIRP 44cv replaces Garmin's echoMAP CHIRP 44dv
For CHIRP sonar you must purchase a compatible single channel CHIRP transducer.
If you need help selecting a CHIRP Transducer for this unit, give us a call at 808-345-5415
Each Garmin echoMAP CHIRP 44cv comes with:Garmin echoMAP CHIRP 44cv,
Power/data cable,
Tilt/swivel mount,
Mid Band CHIRP/CHIRP ClearVu (4-pin) Transducer with Temp,
Trolling motor mount,
Hardware,
Documentation
and a One-Year Warranty.
Size:4.0"W x 6.6"H x 1.8"D
Garmin echoMAP CHIRP 44cv Special Features
CHIRP Sonar with CHIRP DownVu
QuickDraw contour Software
NMEA0183 Connectivity
Single microSD Card slot for added mapping
Crisp, Clear photo-like images