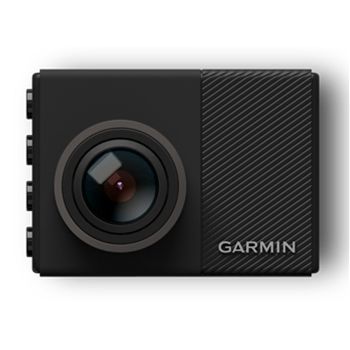 Garmin Dash Cam 65W
DashCam with a Wider 180° Viewing Angle
The Garmin Dash Cam 65W may be small in size but that 2" size makes it perfect to mount on your windshield while being discrete to drivers around you when you're out there on a busy roadway or highway.
We all experience the many distractions there are these days when it comes to getting around, like cell phone use, kids acting up, or even taking your eyes off the road for a split second and accidents can happen when we least expect it. If you are involved in that type of predicament G-sensor technology will save actual footage upon impact! This GPS enabled device also records the precise location, date and time of where an incident takes place. The Dash cam 65 has a nice wide 180-degree viewing angle which records in High quality 1080p video, enabling you to view more of the area surrounding the vehicle not just what is directly in front of you which can be valuable information especially in an accident situation.
Mount the small Dash Cam 65W directly on the windshield via the low profile magnetic mount and you're on your way. Hands free operation means you can keep your eyes on the road while providing voice commands if you wish to start or stop the recording, even take a still picture. Great features like the "Go Alert" lets you know when the car in front of you starts moving again, and the built in forward collision and lane departure alerts keep you driving safer if you get too close to a vehicle or drift into oncoming traffic. The Dash Cam 65 is designed with built in Wi-Fi so via the VIRB Mobile app you are able to share videos with others, like a scenic drive for instance. Garmin's own Travelapse feature allows you to shorten actual footage into minutes so you can select the high points of your trip.
Not only does the Dash Cam 65W record, but does so much more. Know ahead of time when there are speed cameras as well as red lights for added situational awareness when an optional Cyclops Subscription is chosen. For a dash cam that does more than you'd come to expect, get your hands on a Dash Cam 65W for added confidence while taking on the open road.
Each Garmin Dash Cam 65W comes with: Garmin Dash Cam 65W, Low profile magnetic mount, Vehicle power cable, USB cable, microSD™ card, Quick start manual.
Garmin Dash Cam 65W Special Features
GPS Enabled – records when and where events happened
Voice Controlled
180° Field of View
Wirelessly sync video to Smartphone with FREE App
Automatically Records and Saves Footage upon Impact