Garmin 8612 XSV 12" FishFinder/G.P.S./Chartplotter/Radar w/Built In 1Kw Sounder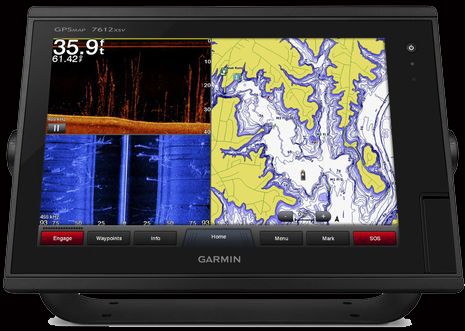 Garmin 8612 XSV 12" FishFinder/G.P.S./Chartplotter/Radar w/Built In 1Kw Sounder
Available in 2 Versions:
1. 8612 - No Internal Sounder
2. 8612 XSV - With 1kW Internal Dual Channel Chirp Sonar

High Performance FishFinder/G.P.S./Chartplotter/Radar Combo Unit with Built In 1,000 Watt Dual Chirp Sonar (No Black Box Needed)

Just plug in your Transducer and Go







Garmin make products that are engineered on the inside for life on the outside. We bring GPS navigation and wearable technology to the automotive, aviation, marine, outdoor and fitness markets. We believe every day is an opportunity to innovate and a chance to beat yesterday. We offer products with essential utility, leading-edge technologies, compelling features, and exceptional ease-of-use to create clear differentiators our customers appreciate and desire.
Features & Benefits
Easy-To-Use, Easy-To-Install Chartplotter/Sonar Combo Delivers MFD Performance In A Combo-Size Package
Get Wider Viewing Angles And Superior Clarity On The Touchscreen With A Full HD In-Plane Switching (IPS) Display
It's Compatible With Premium Maps And Charts For The Best In Garmin Navigation
Easily Build Your Marine System Using The Best Of Network Connectivity
See Below And Around Your Boat With Built-In Sonar Capabilities
From ANT ® Technology To Wi-Fi ® Networking, There Are Countless Ways To Connect To Your System
With SmartMode ™ station Controls, Everything Is Designed To Give You Quick, One-Touch Access To The Information You Need
Sailing Polars - Use The Polar Table To See Key Data, Providing How Fast You Should Go At A Certain Wind Angle And Speed, So You Know Whether You Need To Adjust Sail Trim
Garmin SailAssist ™ Sailing Features View Laylines, Race Start Line Guidance, Enhanced Wind Rose, Heading And Course-Over-Ground Lines
Limited 2 Year Warranty