Furuno Navnet TZTouch2 12" Touch Screen Multifunction Display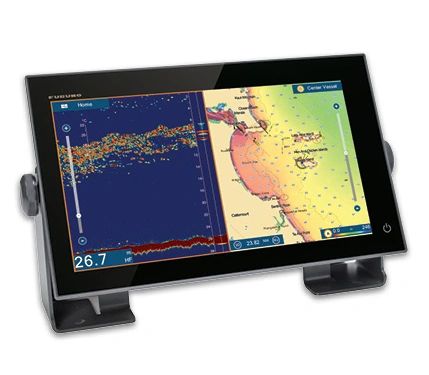 Furuno Navnet TZTouch2 12" Touch Screen Multifunction Display
Furuno TZTouch 2 12" Net-workable Chartplotter/Fishfinder/Radar Capable with Glass Display






The TZTL12F from Furuno is their first all in one, combination chartplotter/fishfinder that can be networked either via NMEA 2000 and CanBUS. A 12.1" glass, edge to edge touch screen on the TZT12 provides the user with an elegant appearing display that is not only easy to operate but easy to install. With "Edge Swipe" accessing different displays has never been easier. Swiping from the left edge reveals the NavData panel, Swiping up from the bottom of the screen unveils the new Layers menu and swiping from the top or right side of the screen provides additional TZTouch Functions.
Built with an internal 56 channel GPS/WAAS receiver that acquires satellites in almost any position or location on the boat, the TZ Touch 2 eliminates the need to mount an external antenna and run cables to connect the two. The TZTL12F is a combination GPS/Fishfinder that offers the fisherman a dual frequency 600W or 1kW sounder that possesses Furuno proprietary Fish Finder technology, called RezBoost. RezBoost is a revolutionary feature that utilizes Furuno's exclusive digital signal processing protocol to produce fantastic target resolution and separation, without the need to change out your transducer, or purchase expensive broadband transducers. Of course the internal fishfinder of the TZTL12F has the same Bottom Discrimination and AccuFish Modes that Furuno users have become accustomed to seeing but with the target separation that previously, only their commercial grade fishfinder could display.
Offering a huge memory for storing waypoints, tracks, and routes with up to 30,000 waypoints, 30,000 track points, and 200 routes with up to 500 points each the TZTouch 2 is network capable allowing you to add AIS, Radar, XM Weather, Thermal Imaging and so much more.
Fully networkable the TZtouch systems are both radar and AIS compatible. Increasing your situational awareness, Furuno Radar and AIS systems can be overlaid onto the chartplotter to give you a much better view of what is around your boat as well as show you if you are on a collision course with another vessel. AIS is connected via NMEA 2000 and sends information about other AIS equipped vessels in your area. Information like vessel name, call sign, position, course, speed over ground, and other useful information. Furuno Digital Radar is offered in either a radar dome or open array. Open array radars are recommended for long range vessels as well as fisherman looking for birds offshore. Radar domes are the perfect answer for anyone looking for more close range information like boats, buoys and land. Please note, The PSU012 is required when adding certain radars to the Furuno NavNet TZ Touch. PSU not required for any DRS4DL or DRS4D-NXT Radars
If you are in the market for the best looking, easiest to operate and install, and possibly the best performing combination chartplotter/fishfinder the TZTL12F from Furuno will provide you with all you are looking for.
Each Furuno 12" TZTouch2 comes with: 12" Furuno TZTouch2, Power Cable, Soft Protective Cover,LCD Cleaning Cloth, Flush Mount Sponge and Template, User Manual and CD and a Two-Year Warranty.
Size:12.8"W x 8.5"H x 4.4"D
Furuno 12" TZTouch2 Special Features
Internal 56 Channel GPS/WAAS Receiver
Built in dual frequency 1Kw Fishfinder with Rez Boost
12.1" Touch / Swipe Display
30,000 waypoints & 200 Planned Routes with 500 Points/Route
All-Glass edge to edge touch screen
Waterproof IP56 Rating