Furuno FCV-628 Fishfinder with RezBoost Technology
Furuno FCV-628 Fishfinder with RezBoost Technology
Furuno FCV-628 - 600 Watt FishFinder with a 5.7" High Resolution Color Display

Fantastic clarity and resolution with RezBoost™ technology!
RezBoost™ is a revolutionary new signal processing technology developed by FURUNO that improves resolution and target separation when using conventional narrowband transducers. Spot individual game fish surrounding bait balls, as well as fish close to the seabed. With the dual-frequency (50/200 kHZ) RezBoost™ technology, not only can you expect higher resolution and crisper visuals, but also improvements in the ACCU-FISH™ function.
The FCV628 offers up to 8 times the target separation than its predecessor the FCV627.
With RezBoost™ the capabilities of conventional narrowband transducers can be dramatically improved. Compared to conventional signal processing techniques (FDF), a RezBoost™ sounder produces an image that is up to 8 times*
1
clearer. 
A TruEcho CHIRP™ Fish Finder (requires a special transducer) produces an image that is up to 10 times*
1
clearer when compared with FDF. However, what can be done with a conventional narrowband transducer and RezBoost™, just like the one you might have installed on your vessel, is truly impressive
Accu-FishTM identifies individual fish with size & fish mark function
Recognizes individual or multiple fish instantaneously
ACCU-FISH™ is a fish size assessment function that is proprietary to FURUNO. In order to assess individual fish size, echo returns are evaluated based on strength and turned into fish size display on screen. ACCU-FISH™ can detect fish size from about 4 inches (10 cm) to 6.5 feet (199 cm), in depths of about 6 feet (2 m) to over 325 feet (100 m).
Display fish marks
The fish mark can be utilized to display individual fish echoes when they are detected. It helps beginners to identify fish echoes for a more engaging fishing experience. Fish marks are selectable from either a circle or square, as well as, two fish symbols. The fish symbols, displayed in two different sizes (Large: over 1.5 feet (50 cm), Small: about .5 to 1.5 feet (10 to 49 cm), are a great help for anglers when identifying individual fish. The circle and square symbols identify individual fish without hiding the underlying echo.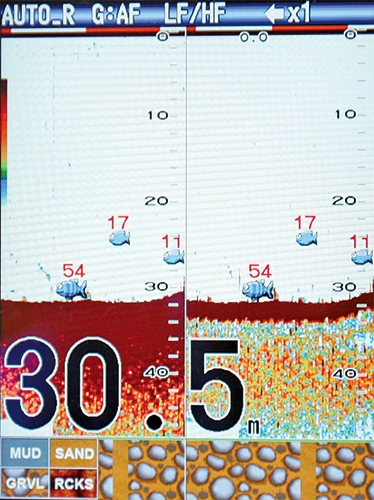 Easily identify the makeup of the seafloor with Furuno's exclusive Bottom Discrimination Mode
The Bottom Discrimination mode enables the Fish Finder to indicate whether the bottom is composed mainly of rocks, gravel, sand or mud. This provides you with valuable information that helps you locate rich fishing hot spots, and boost your catch of the day.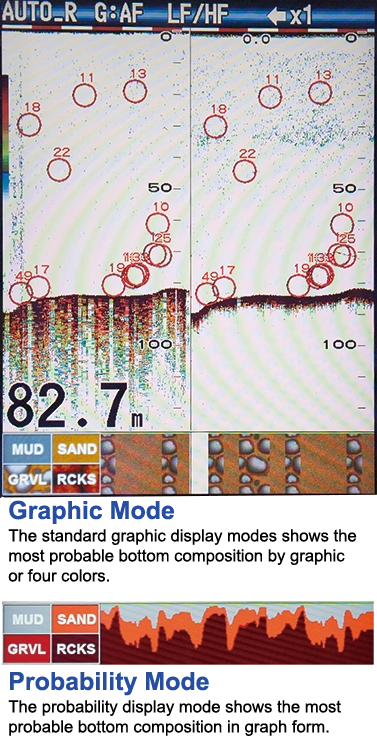 Please keep the following in mind when using the Bottom Discrimination mode:
Use at a depth of 16.5 feet (5 meters) to over 320 feet (100 meters)
Use a transom or thru-hull bottom discrimination transducer from the list below
Install the transducer parallel to the bottom of the vessel
To show a consistent display of the actual bottom, set the display range to "auto"
Enter the ship's draft value
Use a ship speed of 10 kn or less
In some instances, the bottom component indicated my differ from the actual bottom structure
Distinguish fish from seabed with White Line function
The white line function is perfect for anyone who bottom fishes. The white line makes it easy for you to see the separation between the sea floor and a fish laying on the bottom. This is also useful for judging fish school density as well.
Furuno's Fish Alarm, the only alarm you want ringing first thing in the morning!
Whether you are a seasoned fisherman or just learning how to use your Fish Finder, the Fish Alarm function is ready to become your best friend. You can preset an area on the Fish Finder that you want to watch and as soon as a fish echo appears in that area, a loud alarm will sound, as well as displaying an alarm icon on the screen. You can also set the alarm to be triggered by specific conditions for water depth, target depth, water temperature, bottom type and more. With the Fish Alarm function, you will fish smarter, not harder. You never have to miss a target again!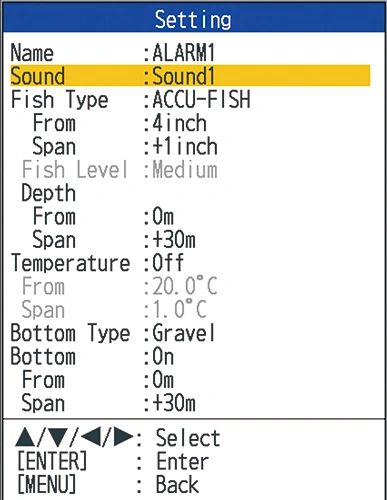 The FCV-628 is a high end stand alone fishfinder providing exceptional underwater images at an affordable price point.
Each Furuno FCV628 comes with: Furuno's FCV-628, Snap On Cover, Swivel Mount, Power/ Multi Cable with 10 Pin Connector, Fuse 2A, LCD Cleaning Cloth, Flush Mounting Sponge, Nuts/Washers/Screws/, Operators Manual,

Flush Mounting Template and a Two-Year Warranty.
Size: 6.7"W x 6.7"H x 4.2"D
Please call if you have any Questions or need help selecting a Transducer - 808-345-5415