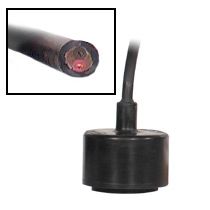 Furuno/Airmar CA50B-6B
The Furuno CA50B-6B is a 1000 watt rubber coated transducer.
This unit operates at a frequency of 50 kHz. It includes 15 meter cable.

CA50B-6B Features:


Product # CA50B-6B
Rubber Coated Transducer
Power 1 kW
Frequency 50 kHz
Beam Angles 28°
Rubber Coated - Pocket, Chest, Housing or Tank Mounted
6.6 lb Weight
15 Meter Cable w/o Connector
The Furuno CA50B-6B has many exciting features for users of all types.
It's one of our best selling Furuno Pocket/Tank Mount Transducers.