Strawberry Pearl Glow Head Bullet Lure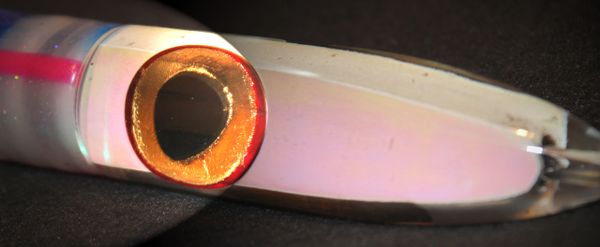 Strawberry Pearl Glow Head Bullet Lure
Custom Bahama/Reel Hooked Strawberry Pearl Bullet With Glowing U.V. Pigmented Skirts, 

w/Real Hand Laid Gold Leaf Eyes with Red Flashing Eye Rings
These gold leaf eyes and Red Rings put out an amazing flash of color when the sun hits them.
which really stirs up the boys down under.

We use these trolling very early a.m. (in the dark) and on over cast days
and in evening time while trolling home after dark, these catch when other lures don't.
They work in bright light condition too, but Perform best in darker conditions
where it contrasts against the darker surface color of the water.
Will Catch Plenty AHI, Mahi Mahi, and Ono or Wahoo.
and will catch alot of other pelagics as well
a very consistent performer that does well in a variety of sea conditions
and speeds, due to its bullet shape.
sorry bout pics - much better ones coming soon - these dont do justice to these lures.
All lures are Keel Weighted and Balanced to Run Upright with no Spin.
9" is perfect off the long riggers and Shotgun, and run the 12" ones off the short corners
Available as just head double skirted, and also fully rigged.