Custom Xtra Hvy Rootbeer DragonHide Bullet Lure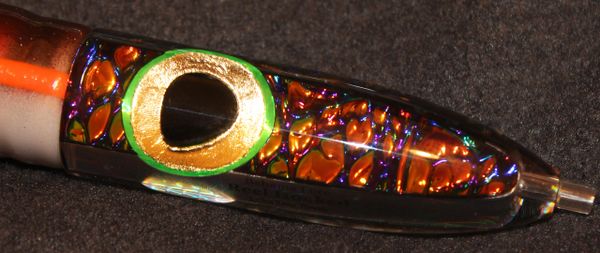 Custom Xtra Hvy Rootbeer DragonHide Bullet Lure
Custom Xtra Hvy Bullet Lure with Rootbeer DragonHide Dichro Inserts
With Hand Laid Gold Leaf Eyes with Flashing Red Eye Rings.
These Rootbeer Colored Lures are one of our best Ono or Wahoo Lures

 and they Catch just about every other Pelagic Fish as well,
Deadly on Ahi, Mahi Mahi, Rainbow Runner, Spearfish and we catch Plenty Marlins on these too.
Comes Double Skirted with 2 Thick, No eye, Premium TT O.L.C. Skirts.
These skirts Have No Bulge behind the head, follows the profile of the head perfectly
 so the skirts don't impart wobble or spin into the lure while Trolling.