Custom Black Head Green Eye Miranda Plunger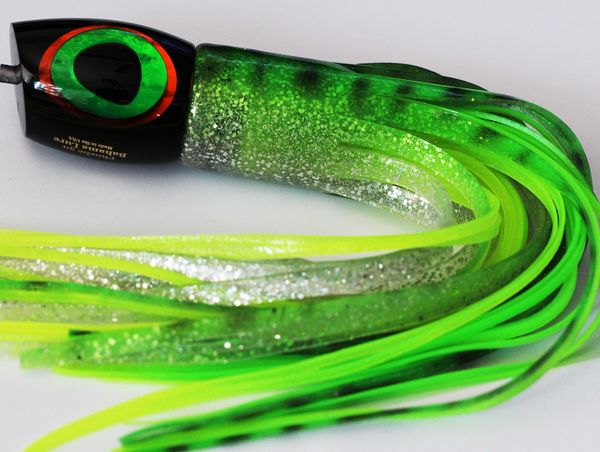 Custom Black Head Green Eye Miranda Plunger
Custom made Bahama Lure, Black Head, Big Green Eyes with Flashing Orange Rings, Miranda Plunger

The MIRANDA is a trolling lure with a high rake face angle for better swimming and popping on calm days.

Great rigger Lure for Mahi, Tuna and Marlin and has caught alot of other pelagic species.

Available In Solid Black, and Black with multi colored flakes that flash in the sun.

The shorter Length gives this head more side to side wiggle and with its larger face,

a deeper dive pattern with long bubble trail and bigger splash when popping at the surface

its diving/popping action, attracts all types of Fish.
We use this Lure to Target Blue Marlin, all Types of Tuna, and Mahi Mahi go nuts for these when they are around.
With its Big, custom Green Eye, and Flashing Orange Rings, This Lure Attracts the Attention of any Passing Fish.
Both Head Colors work equally well.

Available in 3 sizes 9" 30 size and 13" 50 size And a 15" size 60

Both sizes Proven to Attract Pelagic Fish of all Species.
Blue/Black/Striped Marlin, Yellow/bluefin and BigEye Tuna, Mahi Mahi,

and has caught More than its fair share of Ono or Wahoo on the 1,000 Fathom in the blind.
Comes with a nice thick line saver in the head, which helps to keep you leader from getting a kink

when thrown on the deck or stored in a lure bag, Extending the Life of your Leader.
Black Head is Rigged with a Black Top with sparkle flake, red stripe & silver bottom
with a Bright Gold and Black Inner Skirt.

Excellent off the Long, and short Rigger, and we love the 9" on the shotgun, its Proven very Effective.
Multiple Rigging Options are Available. Single stiff rigged,  or double hook set with 60* or 180* angle

Recommend the 9/0 or bigger Hook for the 9" and a 10/0 or larger for the 12"
All Rigged Lures will have 15' of Lindgren Pitman 300 or 400lb. Leader on the 9" and 400lb.for all 12" Lures.

We use Our Proven Sea Demon 3x Strong Stainless Steel Hooks. 4x Strong Hooks Available upon request.

Custom Length and lb. Test Available, just call me with your specific needs. 808-345-5415